Are you looking to celebrate Dia de los Muertos this Halloween season? Keep scrolling to find out some awesome Day of the Dead crafts and activities to do with your kids.
This post about Day of the Dead crafts and activities for kids contains affiliate links which means if you purchase something from one of my affiliate links, I may earn a small commission that goes back into maintaining this blog.
We usually spend the month of October doing a bunch of Halloween activities like taking pumpkin patch photos or celebrating Halloween at Disneyland.
In the past few years, Disneyland has done a great job incorporating Dia de los Muertos into their programming and seasonal decorations. And a big reason for that is because Disney's Coco has taken the world by storm!
But, this holiday has a rich and meaningful history behind it. This is a great year to take some time to celebrate the lives of our loved ones who have passed away.
This year, we're trying to recreate our favorite fall activities at home and the best place to start is with Day of the Dead crafts and activities to do with our kids.
I've written up some of our favorite ways to celebrate Dia de los Muertos with kids and I've included a bunch of ideas from other bloggers who love sharing this festive event with friends and family.
48 Incredible Day of the Dead Crafts, Activities, Recipes, Printables, and Books for Kids
Day of the Dead Crafts for Kids
Sugar Skulls are a huge part of Dia de los Muertos. This Sugar Skull craft is perfect for your budding artist to use their creativity to come up with a beautiful Sugar Skull decoration to hang in your home this Fall.
Make as many as you like for festive Day of the Dead decorations. The cool part is that your kids will come up with their own designs for unique items!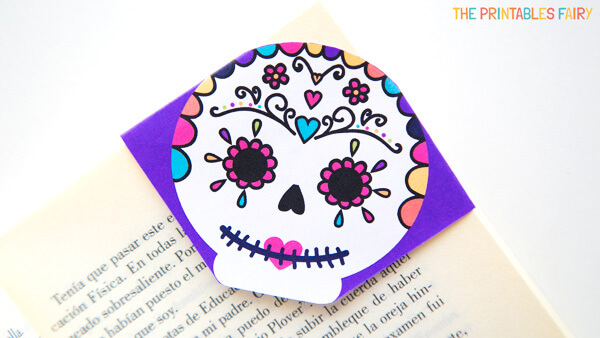 These Sugar Skull Bookmarks are super easy to make and the perfect craft for your Day of the Dead celebration. This post tells you step-by-step how to make them and includes a free printable template.

If your kids love to color and you want to create a super easy Day of the Dead craft for kids, this is the one to do.
You'll get a free sugar skull coloring template. Then, you can add in jewel stickers, glitter, and anything you like to add a little razzle dazzle.
Cut it out and glue it on a piece of colorful cardstock or construction paper and you've got a super cool Dia de los Muertos decoration!
I'm totally digging this super cute Day of the Dead kids craft. Younger kids will probably need a lot of assistance, but it's awesome for slightly older kids and teens.
I love how kids can really tell a story about the character they are creating by using the plaque space. And you can make as many as you want because each one is unique!
I found this really awesome skeleton puppet that is put together by brads. That means you can move all the body parts when you pull the little string.
What's awesome about this Day of the Dead craft for kids is that you can make several of them and each one is unique.
If you're looking for a super easy, 5-minute Day of the Dead craft, you'll love this Dia de los Muertos luminary. It makes a cute Halloween decoration and kids will love seeing them all lit up!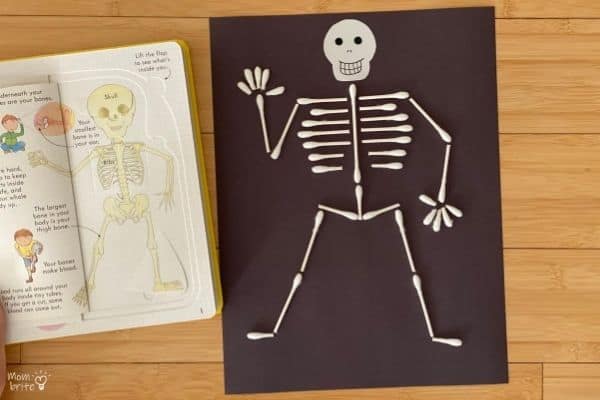 The great thing about this kid-friendly Day of the Dead craft is that you probably already have all the supplies at home.
These instructions are for a basic skeleton, but you could totally tip the q-tips in food coloring or use markers to change the colors. And you can also decorate the skull in festive colors and even put glitter glue on the paper.
This is an awesome Dia de los Muertos craft for slightly older kids who want to learn how to carve soap.
You'll create a template and then use tools to create a 3-D version in soap. Even if your kids don't normally like crafts, they might like this one!
A big part of Dia de los Muertos is about honoring loved ones who have passed away by creating an altar where you display photos and symbolic items.
If your family doesn't have an altar, another great way to do this is by creating a memory book and decorating it with things your loved one enjoyed in life.
What's great about this craft for Day of the Dead is that there are a million different ways it can look and it's totally personal.
While you might not think of origami when searching for Dia de los Muertos crafts, it's actually a really cool way to create decorations!
This is a great kit that shows you 20 designs with plenty of beautiful origami paper for your create sugar skulls, Spanish boxes, flower crowns, Aztec-inspired flowers, standing fans, candy, and more!
If you're looking for a Day of the Dead craft for preschoolers or elementary students, this is an easy classroom activity. It's a sugar skull craft kit with ornaments and foam stickers so kids can decorate them.
Plus, each ornament comes with a card that explains the Mexican tradition of sugar skulls, making it a fun take-home craft idea.
One of the cutest sugar skull crafts that I've found are these adorable sugar skull suncatchers! They come in sets of 6, so it's an easy Day of the Dead classroom activity for elementary students.
Or, add them to a Day of the Dead party bag for a fun take-home craft!
Ok, so how cute is this mini sugar skull craft? You'll get everything you need to create a tiny masterpiece, including glitter, sequins, gemstones, and more!
What's extra cool is that it comes with a little book about the history of sugar skulls and has plenty of inspiration for you to decorate your own.
I know we already have a craft idea for paper Day of the Dead puppets, but this wood version is great for kids who are a bit rougher with their crafts.
Plus, it's really easy to assemble since this kit has the basic items to put together your Dia de los Muertos skeleton. But, you'll still need to provide your own paint, stickers, gems, feathers, flowers, etc to really jazz it up.
For a super fun Day of the Dead party activity, grab these sugar skull scratch art decorations!
It's easy for kids of any age to do. Just grab the scratching tool and watch your sugar skull come to life! Kids love not knowing what colors are underneath the surface.
Rock art is something fun to do with kids who love picking up rocks on nature walks. But, if you don't already have your own rocks, don't worry! This set comes with 4 large river rocks just waiting to be painted.
You'll also get a bunch of paints, brushes, dotting tools and a detailed instruction book.
What's extra fun about this is that you can add these rocks to a little rock garden outside your home.
Or, you can hide these Day of the Dead rocks on your next nature walk!
And if that's not enough crafts for you, there's this book with 24 different Day of the Dead projects that your kids will go nuts for!
In this book, you'll learn how to make your own ofrenda (Day of the Dead altar), jewelry, masks, sugar skulls, calaveras, and so much more!
Day of the Dead Crafts for Adults
While I mainly wanted to focus on Dia de los Muertos crafts for kids, when I ran across this I knew I had to include it in my roundup.
It actually sounds pretty easy to do, but you'll need a lot of time and patience to get the right look. You could probably modify this using a little ceramic skull and then have kids paint them however they want.
This post is really helpful because it explains what each color represents.
Day of the Dead Activities
Kids and parents will love this festive, easy-to-make slime craft inspired by Disney/Pixar's Coco! It's super sparkly and tons of fun!

This Dia de los Muertos activity is awesome because it encourages open ended play for kids. You can add anything you already have, like pony beads, jewels, buttons, sparkly things, etc.
And if you want to use it as a decoration, try creating it with model magic.
This is a detailed guide on exactly how to create your own Day of the Dead sugar skull makeup. It gives tips on what products to use and how to achieve this look.
What's great is that it gives you the basic instructions for applying the makeup and then you can let your kids show you pictures of what they want their makeup to look like.
If you want to go all out, this blog post shows you exactly how to create a DIY Day of the Dead costume for kids that's budget-friendly and super easy to replicate.
She also gives a make-up tutorial and says what worked (and what didn't) as she applied the makeup to her child.
Day of the Dead Recipes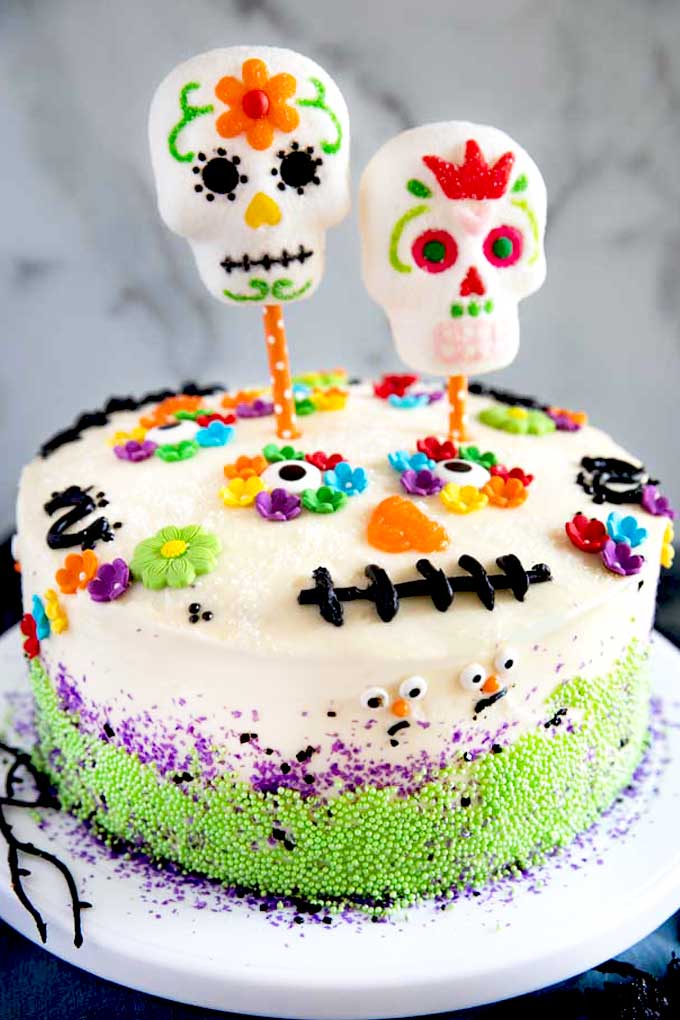 Is it really a holiday if you don't have cake? It doesn't get much cuter than this lovely Dia de los Muertos cake that's make with 3 layers of vanilla cake and topped with cream cheese frosting and Day of the Dead sugar skulls!
But, the real awe-factor is that the inside is just as colorful!
Pumpkin is a fall staple, so why not turn it into these delicious Pumpkin Empanadas for a yummy snack? These are perfect for a snack or to serve in an upcoming Halloween or Day of the Dead party.
Learn how to make a traditional Pastel de Elote sweet Mexican corn cake that is vegan and gluten-free! You bake it in a bundt pan using fresh corn and top it off with a light glaze.
It's the perfect Mexican dessert for your Day of the Dead party!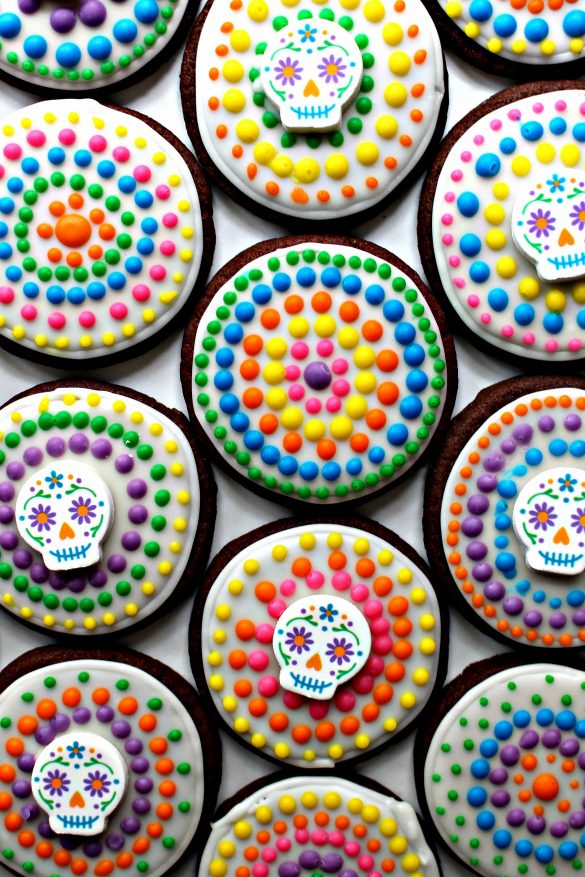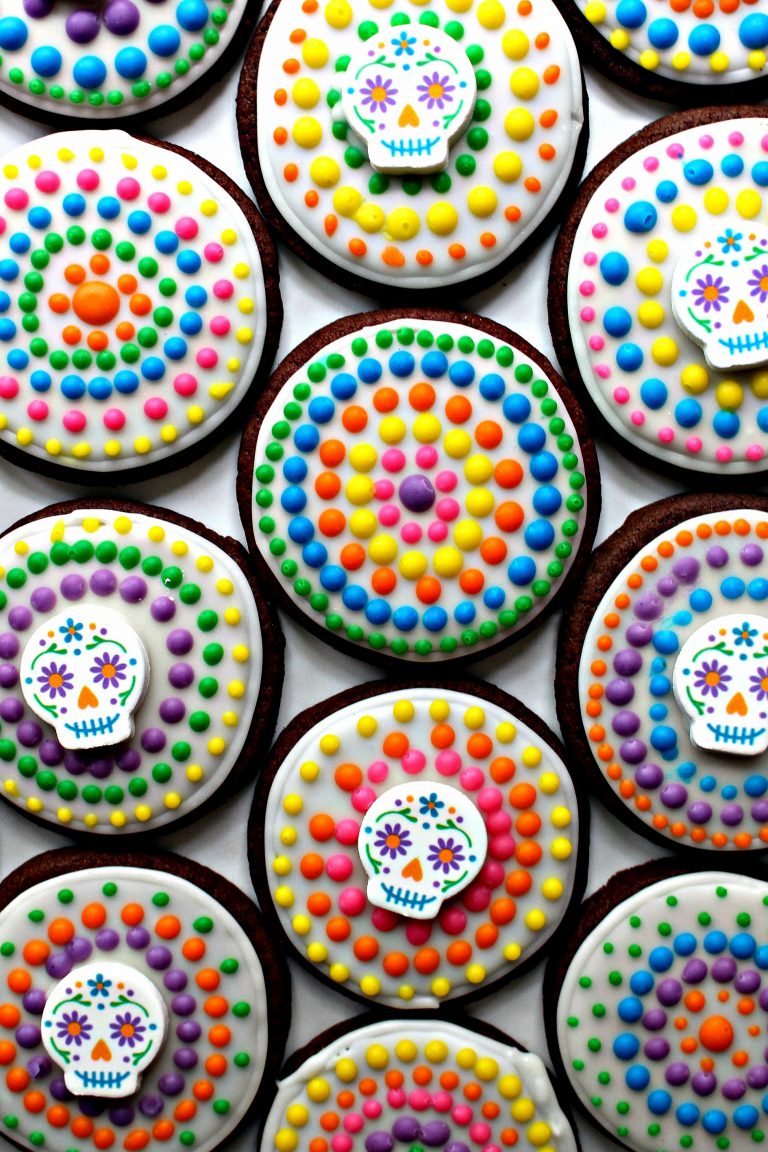 Ok, so are these the most adorable Day of the Dead cookies or what?
Basically, you make any kind of iced cookie. Then, you pipe a few rings of colorful dots and top it with a pre-made Dia de los Muertos cookie decoration.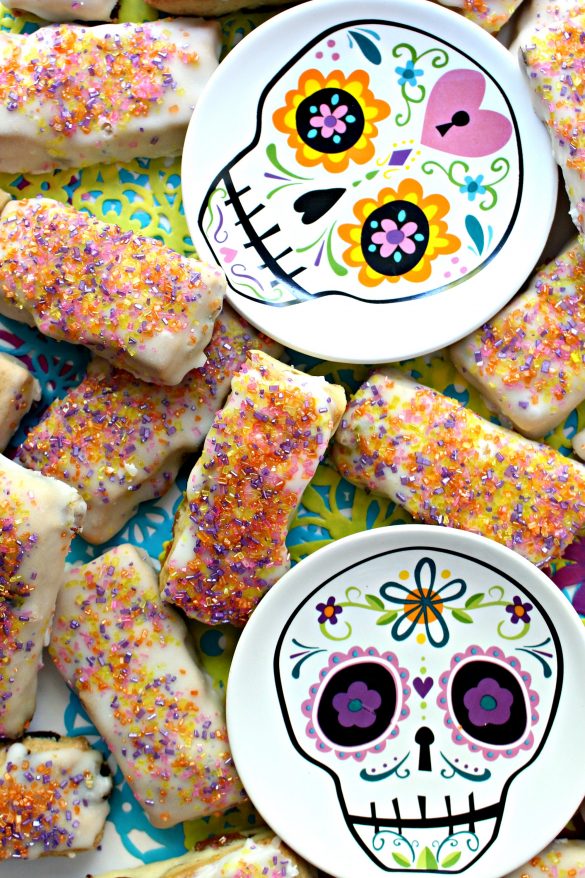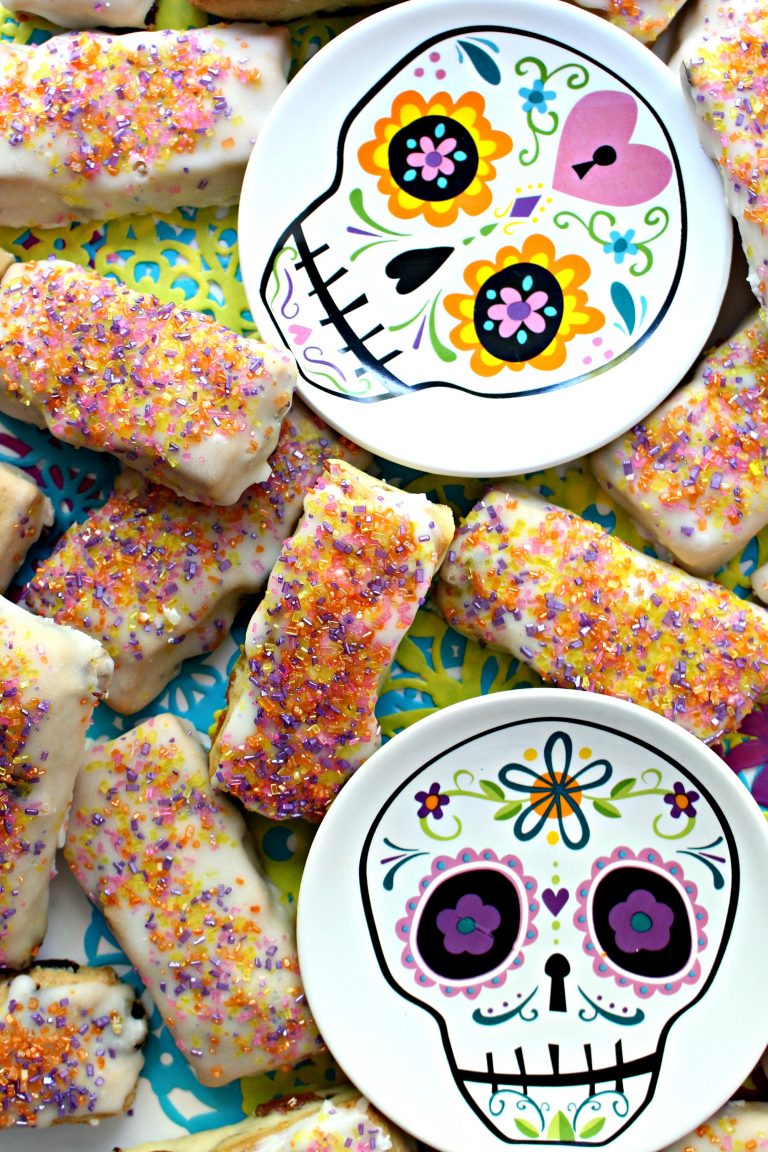 Pabassinas are raisin-nut cookies that have an anise and citrus flavor. They are iced and topped with sprinkles.
These Mexican cookies are usually served at many Dia de los Muertos celebrations.
If you are celebrating Day of the Dead at school, this is a really interactive snack idea for a classroom. It only requires a few ingredients for kids to assemble themselves.
Plus, it's super cute! You could even have different colors of frosting or sprinkles to change it up.
This is one of the easiest Day of the Dead recipes out there. Basically, you take a pre-made skeleton lollipop and use food markers to make it extra colorful and festival for Dia de los Muertos.
Another idea would be to dip them in water and then add sprinkles to them or use cookie icing. So many possibilities!
Day of the Dead Printables
There are so many magical and mysterious aspects behind Dia de los Muertos. Help your children learn more about this fun holiday with these free printable sugar skull coloring pages.
It's a great way to kick off a conversation about other cultures and holidays.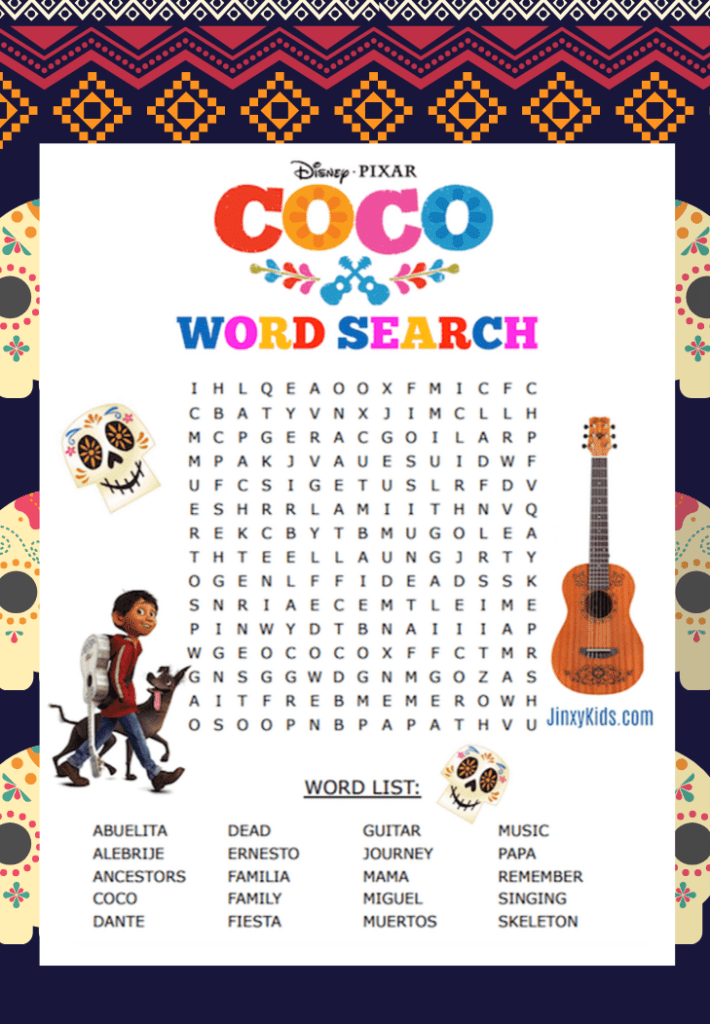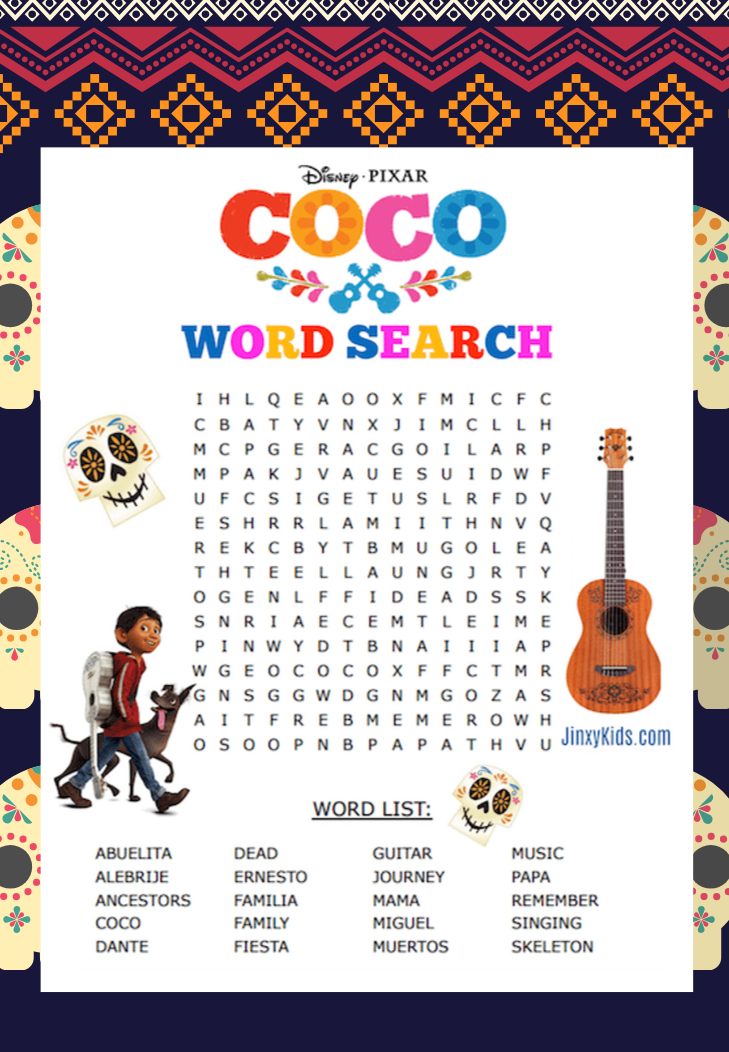 My oldest is obsessed with word searches now that he knows how to read. We love the movie Coco, so this free Coco printable word search is bound to be a big hit!
Day of the Dead Children's Books
32.

Day of the Dead: A Count and Find Primer
Our family is pretty obsessed with Greg Paprocki children's books, so we totally geeked out when we realized he had a toddler board book about the Day of the Dead.
It showcases the holiday in a really cute way and the illustrations are sure to capture your little one's attention.
Buy Day of the Dead: A Count and Find Primer on Amazon
33.

Funny Bones: Posada and His Day of the Dead Calaveras
This book is all about the Mexican artist Jose Guadalupe Posada and his gorgeous artwork that has become a huge part of Mexico's Dia de Muertos festivals.
This book is extra awesome because it highlights this lesser-known Mexican artist with important moments in his life, while also talking about how he created these iconic images.
Buy Funny Bones: Posada and His Day of the Dead Calaveras on Amazon
34.

The Spirit of Tio Fernando: A Day of the Dead Story
This is a great story about how a boy in Mexico learns how to honor a specific family member for Dia de los Muertos. This book is a way to help kids have a more personal understanding of this Mexican holiday.
What's also neat about this book is that they explain Day of the Dead history and traditions at the beginning of the book (instead of the end), so it's easy to set the tone.
Buy The Spirit of Tio Fernando: A Day of the Dead Story on Amazon
35.

Gustavo, the Shy Ghost
If you'd like a hilarious book about a cute little ghost who wants to make friends on Day of the Dead, this book is for you!
It's nice that it's one of the few Dia de los Muertos books that don't focus on the iconic sugar skulls. Your whole family will fall in love with Gustavo as soon as you read this funny book.
Buy Gustavo, the Shy Ghost on Amazon
Day of the Dead Coloring Books
This is a big coloring book that features tons of sugar skulls just waiting to be filled in with bright colors! And there's plenty of white space so kids can continue drawing fun Day of the Dead scenes.
And each coloring page is blank on the back side so it makes it perfect for kids to give their artwork as gifts (without seeing coloring on the back side.)
This Day of the Dead coloring book features some fun animals that kids will think is super cute to color in.
And the pages are one-sided so you can use markers and they won't bleed through.
If you read the book Funny Bones: Posada and His Day of the Dead Calaveras, this is the perfect activity to go with that.

It features images inspired by Jose Guadalupe Posada and there's bilingual text. Each page resembles stained glass window and you can hang them up in your window for decorations.
You could also do this as a group activity since it's easy to remove each page.
If you love Disney's Coco, you know all about alebrijes. And this coloring books celebrates these fantastical creatures in such a fun way!
Kids can learn about Mexican culture and traditions while doing this fun coloring activity.
Day of the Dead Activity Books
This is an award-winning Day of the Dead activity book that's a great way to talk about Dia de los Muertos in your homeschooling curriculum.
Kids can do a bunch of mazes, puzzles, activities, and crafts that will teach them about this fall holiday in such a fun way.
This is a nice Day of the Dead activity book geared for kids age 8-12. There are coloring pages, craft projects, writing prompts, places to create poetry, recipes for traditional Mexican dishes, and more!
Day of the Dead Sticker Books
Sticker coloring books are always a lot of fun and this one featuring Dia de los Muertos is no exception.
Each page features a puzzle that gives you a few clues on how to get started. The stickers are reusable, so you can do this over and over again.
Plus, at the end, you'll have a lovely glossy art poster that you can put on your wall.
Kids who love Disney's Coco will definitely appreciate this beautiful Mosaic Sticker by Numbers activity book that has more than 1,000 stickers!
Use them to create stunning scenes from the movie.
Older kids will totally love these macabre images of calaveras created by renowned artists Jorge Posada and Julio Ruelas.
There are 19 black-and-white stickers that you can use to decorate just about anything. Or, color them in!
Day of the Dead Decorations
This large banner is such a fun Day of the Dead decoration to hang in your home or classroom. It's a plastic version of the traditional artistic banner seen all across Mexico.
This gorgeous Papel Picado banner is also perfect for a Mexican fiesta, Cinco de Mayo, and more!
How cute are these colorful Dia de los Muertos party decorations? It comes in a set of 3 and they are so pretty that you might be tempted to keep them up all year round!
If you are looking for color Day of the Dead classroom decor, it doesn't get much easier that than this. Just fluff out the tissue pom poms and hang them on any wall.
These are also fun to hang in kid bedroom doorways for a fun surprise!
Whether you are throwing a Day of the Dead party or just want to shoot some fun Dia de los Muertos photos for Instagram, these photo props are pretty awesome!
Looking for more Day of the Dead crafts and activities for kids? Check out our favorite Day of the Dead children's books and easy Sugar Skull craft for kids!