Are you looking for fun, at-home activities to do with your kids? Check out these super cool LEGO crafts and activities for kids.
This post about LEGO crafts and activities contains affiliate links which means if you purchase something from one of my affiliate links, I may earn a small commission that goes back into maintaining this blog.
My family LOVES visiting LEGOLAND California! I think it's one of the chillest theme parks and they do a great job of making sure there are fun things to do with toddlers, as well as older kids.
I appreciate that parents don't have to go on all the rides with the kids. That gives my boys a sense of independence and they can do the same rides over and over again.
We're also huge fans of their on-site hotels. One of my kids' favorite things to do when staying at the LEGOLAND Hotel is doing the treasure chest.
Basically, you run around the resort to solve clues and then the kids get a code that opens up a treasure chest in the room that has cool LEGO prizes inside.
We were planning on heading back to LEGOLAND California this summer to check out their new area inspired by the LEGO movies. But plans change.
In order to bring a little bit of LEGOLAND home, I thought I'd share some of the coolest LEGO crafts and kid activities.
Continue reading for the entire list of LEGO craft ideas and fun things to do with LEGOs and choose your favorites!
Super Fun LEGO Crafts
My kids spend a LOT of time hanging out in the bathtub. It's not that they are especially dirty or anything, but they just love all the water play.
These LEGO soap crayons are easy to make and provide extra awesome bathtime fun!
Since LEGOs already come in different shapes and sizes, they lend themselves perfectly to printmaking.
This is one for the best LEGO art projects because it hardly takes any prep time. And you can change it up by having kids color their art with washable markers.
I love LEGO themed crafts that look cute but also serve a purpose. You can use it to store all kinds of markets, pens, pencils, etc or you can put those itty bitty LEGO pieces in there.
This DIY LEGO craft for kids is similar to the one above, but it's even easier. Just use one of those Argo cornstarch containers (it's already yellow) and then draw on any type of LEGO face!
Grab a few LEGO mini-figures that crack you up and use those as inspiration. Or have kids create self-portraits or go wild creating funny LEGO faces!
And once you are done, you can use it to store LEGOs or any other small toy that might otherwise get stepped on.
When I was little, I remember making snow globes and it was the only craft that I really enjoyed. However, it wasn't my mom's favorite because the globes always seemed to leak and cause a big mess.
That's why I'm stoked about these snow globes. These DIY LEGO crafts are water-free! To change it up a little bit, I think we're going to use sand and turn it into a beach scene instead!
So, this LEGO craft is meant to be used on those LEGO travel suitcase sets, but I think it's more versatile than that. You can have your kids help you make a bunch of these and then you can use them for holiday or birthday gifts for friends or family.
You can also hang these easy LEGO crafts on LEGO bins or drawers so kids know what is inside.
These LEGO crafts are super simple, which make them a winner! Kids can turn any LEGO mini-figure into a fairy by adding a little butterfly punch-out to make wings. So easy!
LEGO Activities for Kids
Technically, this is kind of a craft because you have to assemble it ahead of time. But, it's really an activity that you can hopefully use over and over again whether you are traveling or not.
You can use any sort of container and attach magnets or use magnetic containers. And I love that you can reuse cookie sheets.
Yes, little kids can learn how to code with these LEGO themed activities! You can start out by using LEGO bricks, as they are accessible and perfect for teaching simple coding for kids.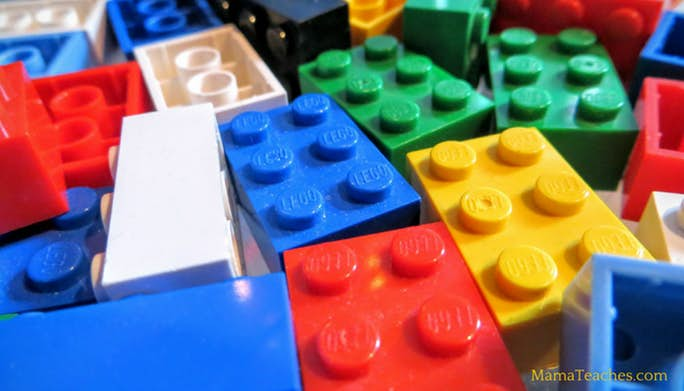 This is definitely a hands-on activity where parents are using LEGO bricks to teach fractions. The concept is simple: Make LEGO towers with different color bricks to show fractions (like a tower of 7 bricks: 3 are red and 4 are blue).
Then, you can have kids build their own LEGO towers and tell you which fractions they are making. I like this better than the pie visual (mostly because it doesn't leave me hungry for pie!)
These Star Wars LEGO mosaics help kids focus on creativity, fine motor skills, and problem solving. All you need is to download the LEGO printable and use your own LEGO bricks.
You can build them on a table, however I think it's much easier for kids to use LEGO baseplates.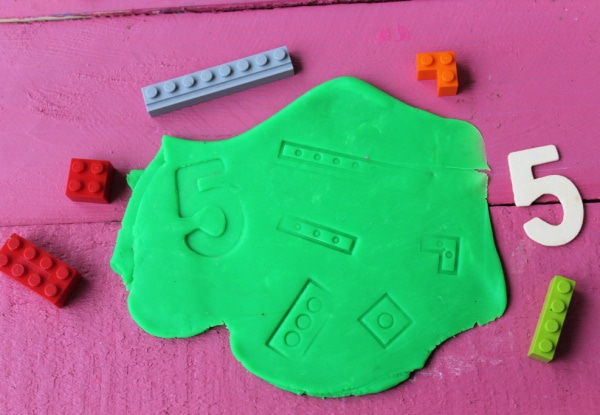 This is an awesome preschool LEGO activity because it's all things you probably have around your house: LEGOs, Play-Doh, and numbers. If you don't have foam numbers (like the ones pictured above), you can use puzzle pieces, stamps, or cut out numbers using card stock or cardboard.
I love how hands-on this activity is and it's a great way for younger kids to start understanding numbers and shapes.
When kids start to read chapter books, it can be easy for them to try to go quickly and kind of get lost in the block of text.
This site offers a few fun reading aids that kids can make themselves to help them keep track of where they are on the page. Out of all of them, I like the one pictured above best because it's easy to build and it's easy to use.
So this DIY LEGO zipline activity is meant to be an Elf on the Shelf thing. However, I think it would be really cool for kids to make and test out with dolls, stuffed animals, or even LEGO minifigures!
I think this LEGO charades game is super cool because you can play as a family, the kids can play with each other, or kids can do it as a solo thing. It's great for kids to read the words and figure out how to construct it using LEGO bricks.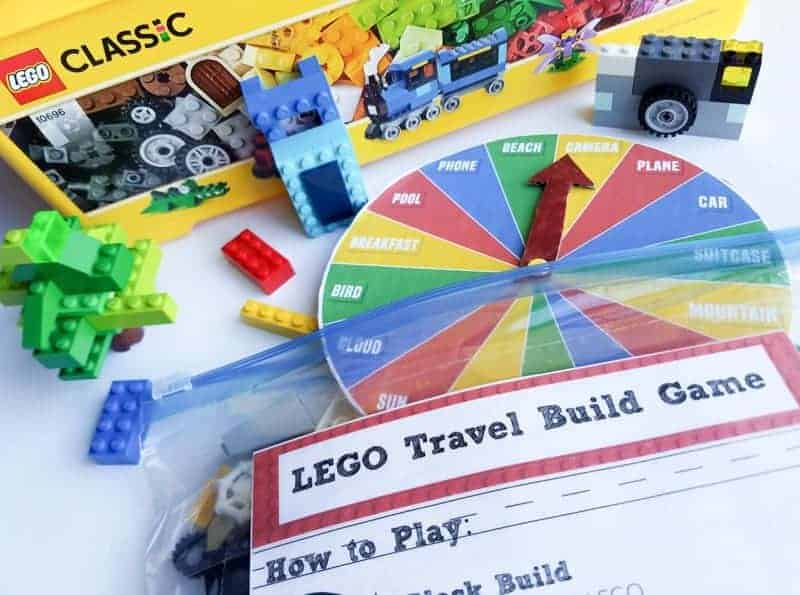 If you are looking for a great road trip game or airplane busy bag activity for kids, try this cool LEGO Travel Build Game. Basically, kids spin the wheel and then they have to build whatever thing the arrow points to.
This is a great game that kids can play by themselves or you can play as a family.
If your kids are studying Ten Frames in their kindergarten or 1st grade class, these games are a great way to supplement at home. Just build a ten frame and you're good to go to play these 4 fun LEGO math games!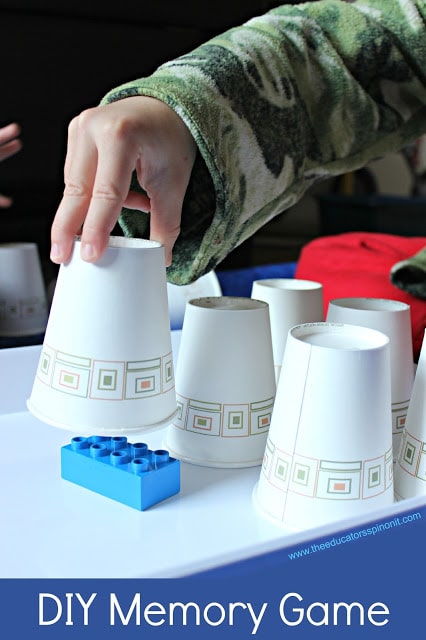 While you can technically use any item for this memory game, it's more fun with LEGOs, DUPLOs, or LEGO minifigures. It's and easy way to extend their play and work on critical thinking and memory skills.
How cute is this LEGO clock? No, it's not an actual working clock (although I'm sure you could find a tutorial for that.)
This is more of an activity to do with your child to help teach them how to tell time on a regular clock. Plus, each number is represented in LEGO bricks so they can get a better sense of the value of numbers, too.
This is a fun game that kids can build and play completely on their own. You can use DUPLO bricks for younger kiddos or use regular LEGO bricks for older kids.
Make it a competition and have kids build their own ring toss game and then play against each other.
Both my boys are sucked into the Minecraft world and we have a bunch of LEGO Minecraft sets now. Sometimes all it takes is for me to mention Minecraft to get them on board with just about any idea I come up with.
For LEGO activities for preschoolers, you can roll a modified die and see who can fill up their board quickest.
For older kids, you can use the game board to play tic tac toe, but swap the X and O for Minecraft minifigures or bricks.
For a really easy science lesson, take advantage of this LEGO insect anatomy activity. I suggest reading a book or watching a video about insects first. Then, print out these labels and have kids create their own insect and label the body parts.
Both my kids are super into vehicles and they are always designing cars, trucks, and other elaborate vehicles out of their LEGO stash.
This adds the extra element of a balloon! Just blow it up and see which car goes the furthest. You can have kids make a variety of vehicles to test out or have them re-design after each race to try to improve.
This is a super cool LEGO science experiment for kids of all ages. Older kids can help mix together the supplies and create these scavenger hunt iced figures.
Younger kids can experiment with water droppers and tools to try to find all the items hidden inside.
LEGO Printables
This printable 30 Day LEGO Building Challenge is so much fun and provides lots of opportunities for creativity. You can even turn it into a LEGO craft game if you add in a time limit.
If you have a kindergartner (or preschooler getting ready for kindergarten) this is an awesome LEGO printable set. Here are the LEGO worksheets and activities included:
Building Words
Maze
LEGO Graphing
Roll a Minifigure Game
Addition and Subtraction Concepts
Building Challenges
Hundred Chart (and suggestions for Learning Activities)
LEGO Patterns
LEGO Knock-Out Game
LEGO Measurements
Dump Truck Math Mat
Positional Words
Ordinal Numbers
LEGO Magazine ABC Collage
Sometimes it can be hard to get kids to write stories on their own. There are so many possibilities that it can feel overwhelming.
What I like to do is have my kids spend a few minutes building a LEGO creature or building and then using that as their inspiration. It can inspire hours of play, writing and creative thinking.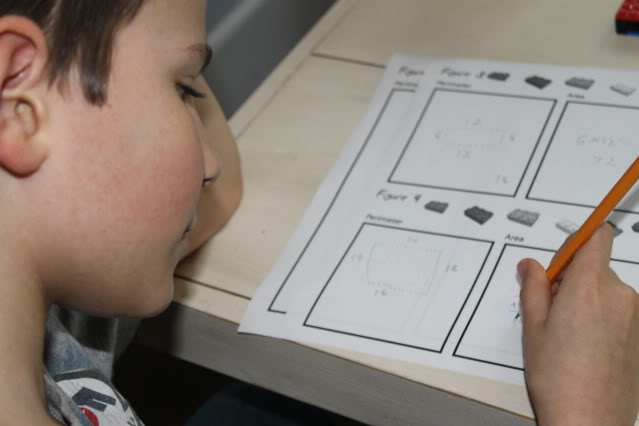 This is such a great way to help kids figure out math concepts like the difference between perimeters and area. It just involves LEGO pieces/plates and these LEGO math worksheets. It's perfect for kids who need a visual.
For parents of preschoolers, a great way to encourage kids to learn about math is with hands-on activities. This is a free printable counting number mats using LEGO DUPLO blocks.
I recommend getting a DUPLO baseplate to make it easier for kids to do this LEGO preschool activity.
This is an easy puzzle to make for toddlers or preschoolers to see if they can match the pictures. These ones feature winter scenes.
Once you are done with these, you can use the same concept and add different pictures. Or use marker to write letters or numbers.
My kids are always on the hunt for funny and unique LEGO minifigures. Over the past 40 years, LEGO has released some really crazy minifigures like Hot Dog Man, Chicken Man, and Cactus Girl!
This printable LEGO bingo set has 10 bingo cards and calling cards that include the official LEGO minifigure names. It's perfect for family game night!
Are you tired of traditional Bingo games for kids? Looking for a super fun LEGO Challenge that will keep your kids busy for awhile?
This LEGO Bingo is a fun challenge to see which LEGO creations each kid can make. Can they come up with 5 in a row? Or go for the blackout!
While we do a lot of traveling with our kids, we can't always be out exploring the world. So, I love doing activities that keep my kids learning about the world around us.
These printable LEGO challenge cards are super awesome because they feature famous world landmarks like the Blue Domed Church in Greece, Machu Pichu in Peru, and the Great Wall of China.
Take it a step further and show your kids video of the places or read a story that takes place near the landmark.
If you are looking for even more LEGO activities for kids, I'm loving this site. They have LEGO challenge cards, a secret & hidden treasure game, car racing activity, upside down building, and more!
LEGO Books for Early Readers
Buy it on Amazon
Buy it on Amazon
Buy it on Amazon
LEGO Workbooks and Activity Books for Kids
Buy it on Amazon
Buy it on Amazon
Buy it on Amazon
LEGO Ideas and Activity Books
Buy it on Amazon
Buy it on Amazon
Buy it on Amazon