Are you curious whether or not Knix period underwear is actually leakproof? I've tried them for the past 4 months. Keep scrolling to get my honest Knix underwear review.
This honest Knix underwear review may contain affiliate links, which means if you click on the link and purchase the item, I will receive an affiliate commission at no extra cost to you. All opinions remain my own.
When I started my blog a little more than 6 years ago, I vowed I would never write about periods. I just wanted to focus on the fun things in life and periods are always a buzzkill.
I don't even have to elaborate. We've all gotten our period during a beach vacation or special event and it's less-than-awesome.
But, one of the goals of this site is to give families life hacks that make life with kids easier and stress-free (well, as stress-free as we can make it!)
One of my blogger friends, Julie Bigboy from Mom Rewritten, posted something on Facebook about doing research for period underwear reviews and she had just tried Knix leakproof underwear.
I've been curious about period panties for several years, but I wasn't sure if they were worth the price or not. I'm a total discount shopper and I try to avoid paying full-price for things if at all possible.
So, I started reading online reviews and Facebook comments to see which brand I should try. I saw a few comments about other brands having chemicals in their products, so I decided to try Knix underwear.
I bought a couple of pairs just to try out for myself and then I immediately bought more in the styles I like.
Because it's been such a game-changer for me, I figured I probably should write up a blog post about it in case other women are curious. This is my unfiltered opinion.
My Issues with Feminine Hygiene Products
I've had horrible menstruation issues since I was a teen. Super heavy bleeding, fibroids, awful cramps, etc.
At some points in my life, I've had to use super tampons and super pads simultaneously and there have been so many times where things have leaked and I've had to run home to change. It's embarrassing and frustrating.
I mention this because I go through a lot of feminine hygiene products each cycle.
A few years ago, I decided that I wanted to make an effort to cut down the amount of chemicals I put on my body. One of the ways I did that was by switching to more natural/organic tampons and pads.
That was a great move at the time and they worked well. The only issue I had with them is that the glue on the pads was so strong that it consistently ripped my underwear apart.
So, I had to throw away a lot of ruined underwear, which was a total waste of money.
All this rambling is just to show you my thought process and why I figured it might be worth trying out Knix leakproof underwear.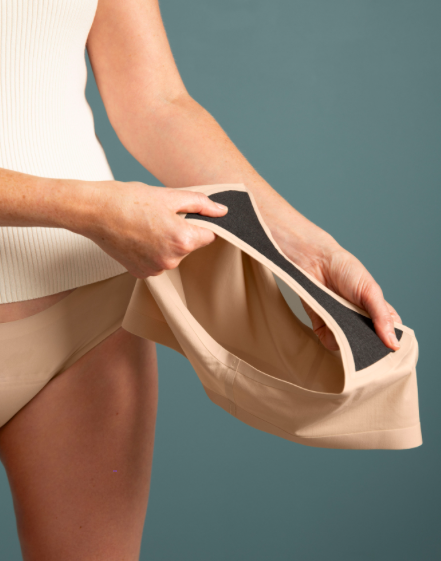 Honest Knix Underwear Review
Which Knix Underwear Products I Tried
There are several options when it comes to Knix women's leak proof underwear styles: Bikini, Boyshort, Thong, Cheeky, High Rise, and the Dream Short.
In addition to these styles, you can also get them in Super Leakproof as well as some in lacy fabric.
And they also have the following period panties sets you can buy: Heavy Flow Period Kit, Mixed Flow Period Kit, and Knix Starter Kit.
These are the ones I have personally tried and tested over the past few months.
These ones are medium absorbency and say they absorb 3 teaspoons of blood, sweat, or pee.
I've worn these on all days of my cycle and they are mostly comfortable.
They are true to size, so don't size down thinking you need to for leak protection. I made that mistake on my first order and had to size up for my next order.
These ones would actually be pretty awesome for pregnant mamas or ones who have a newborn at home because it would help with bladder issues as well as dealing with that first period after giving birth.
Check prices and styles of the Knix Leakproof Bikini
Boyshorts are my favorite style of underwear, so most of my period underwear are these boyshorts.
They have all the same features as the bikini style, but they provide a bit more coverage of my booty.
I wore them one time and immediately went online and bought a couple more. Super comfy and versatile.
Check prices and styles of the Knix Leakproof Period Boyshorts
These are kind of like the boyshorts, but with even more coverage. They are sleep bottoms that can absorb 4 teaspoons of liquid.
Of course, they also have the patented leakproof technology.
I own 2 pairs of Dream Shorts and they have made sleeping while on a period so much more manageable.
Check prices and styles of The Dream Short
What I Like about Knix Leakproof Underwear
Usually, when I get my period, it's a mad rush to make sure I have all the supplies I need. And then my day revolves around changing my pads and tampons to stay nice and fresh.
Knix period panties take all that worry away because I know I'm all set and I can go about my life stress-free.
I love how on most days, Knix leakproof underwear makes me forget I'm even on my period.
And they do an awesome job at absorbing odor. I never notice any smell (which I always do with pads.)
Plus, they are so much more comfortable to wear than tampons. They feel pretty much like regular underwear, except for a little stiffer panty liner area.
They come with a little lingerie bag that makes it really easy to keep them all together so I always know where to find a clean pair.
And just as a side note: I really like that their website features real women of all shapes, sizes, and ethnicities so I can see what the underwear looks like on regular women.
What I Don't Like about Knix Leakproof Underwear
I'm all about wearing full coverage underwear (especially ones that eliminate visible panty lines!) I wear a lot of yoga pants during the week and don't want them to show.
The Knix bikini underwear started giving me a wedgie after a few hours and I found that I was always tugging on them. I tried 2 different sizes and got the same results.
The Knix boyshorts fit a lot more like regular bikini underwear, which fit me better.
One thing I had to get used to was the feeling of putting on wet underwear the first time I had to pee when wearing the Knix leakproof underwear.
I only noticed that feeling a couple of times during my first cycle wearing them and haven't noticed it since.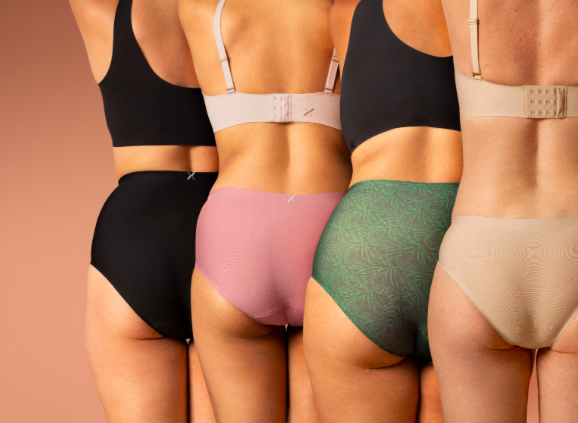 Knix Underwear Review FAQ
Will Knix Leakproof Underwear Work for Heavy Periods?
For the regular Leakproof underwear, I'd say no. After a life of super heavy flow, I think I'd need to change underwear every few hours, which defeats the purpose.
However, these would work well in addition to tampons. Kind of like having backup coverage to help with any tampon leaks. It would provide a layer of protection (and give you some peace of mind.)
I'm so glad that they recently launched their Super Leakproof underwear because those hold more liquid and would be perfect for heavier flows.
Does Knix Period Underwear Work Overnight?
Yes. I like to wear the Dreamshorts on my heaviest days and then the boyshorts on the other days. I've had zero leakage.
How Often Do You Change Period Panties?
It kind of depends on your flow. Some people recommend changing them every 4-6 hours during the day to stay fresh.
For me, I usually change them a couple of times on my heaviest days, but then wear them all day long on the other days (switching to the Dream Shorts when I put my kids to bed.)
Can Period Panties Replace Pads?
Absolutely. That's pretty much what they are designed to do.
Are Period Panties Sanitary
Yes. The Knix leak proof underwear also has technology that wicks away moisture, which helps with personal hygiene.
How Many Pairs of Period Panties do You Need?
You'll want to wear 1-2 pairs of period panties during the day and then another pair to wear at night. It kind of depends on how often you do laundry.
Right now, I own 2 pairs of Dream Shorts and 5 pairs of regular Knix period panties. And I do laundry about every other day.
So, are Period Panties Worth It?
For me, Knix leak proof underwear have been a total game-changer when it comes to my period.
I'm no longer worried about making sure I have enough tampons on hand (in the right absorbancy) or stressed about leakage.
They feel just like regular underwear and allow me to go about my normal day.
I also love that it's less wasteful than disposable feminine hygiene products, so it's better for the environment.
I don't think I'll ever go back after trying Knix period panties.