Planning a trip to Auckland with kids? Scroll to check out 10 of the most kid-friendly Auckland attractions, activities, and cool things to do.
This things to do in Auckland with kids post contain affiliate links which means if you purchase something from one of my affiliate links, I may earn a small commission that goes back into maintaining this blog.
Last month, our family flew from Seattle to Auckland, New Zealand for a big family vacation. It was incredible!
New Zealand is gaining popularity among families because it's such a friendly city and it's gorgeous! Auckland is the major city in New Zealand's North Island. There are many waterfalls, landscapes, and unique wildlife to witness and explore.
If you're looking for great things to do during your visit, you're in luck. That's because there are a gazillion different things to do in Auckland with kids, that are exciting and also a great way to spend an entire afternoon. From kid-friendly pubs to exciting adventures, Auckland offers it all to families.
I did a ton of research before our trip (anything worth doing is worth OVERdoing, right?) We only had a few days in Auckland, so I had to pick and choose which activities were realistic for this trip. But, we'll definitely be back.
If you have more time, check out this 16 Day New Zealand Itinerary my friend wrote for my site last year. It was so helpful when I planned our own trip to Auckland with kids.
Don't have time to read a bunch of New Zealand blog posts and reviews? Here are some of our top picks for visiting Auckland with kids
Popular Auckland Tours/Activities
Kid-Friendly Auckland Hotels
10 Incredible Things to Do When Visiting Auckland with Kids
1. Auckland Zoo
One of our favorite family attractions in Auckland, Auckland Zoo has over 135 species of animals, for a combined total of more than 1,400 animals for your family to enjoy.
Pay attention to special dates on upcoming events and keeper talks, where you can learn more about the more unique species at the zoo.
You will learn that the New Zealand Fur Seal, can hold its breath for up to 11 minutes on a single dive. Be sure to visit any day of the year except for Christmas Day.
2. Auckland War Memorial Museum
The Auckland War Memorial Museum has several galleries that reveal and bring to life the rich history of the ancient people of Oceania and New Zealand.
There are several hands-on exhibits to capture the imagination of children, including an edible garden exhibit, where they can sample several edible greens.
The Pou Kahohi exhibit will help you experience and learn what life was like for the men and women that served in WWII.
Book your Auckland Museum tickets
3. Explore Butterfly Creek
Butterfly Creek is a hidden gem in Auckland, that provides a neat experience for young and old alike. Walkthrough a giant butterfly house right when a large number of beautiful winged insects are released or get close to a real alligator.
There are even giant dinosaurs that stand tall in the park. Most children's favorite attraction, the Mythic Creatures Exhibit, has dragons, unicorns, aliens, mermaids, and let's not forget Bigfoot.
You'll also find a playground for the kids to run around while mom and dad get a break.
4. Kelly Tarlton's Sea Life Aquarium
Your family will go deep underwater for a close-up encounter with amazing sea creatures at Kelly Tarlton's Sea Life Aquarium. The aquarium has sharks, stingrays, tropical fish, sea turtles, and even octopuses.
While visiting the seahorse portion of the aquarium, keep your eyes peeled for the Spiny Sea Dragons, the only display of these creatures in the entire world.
They even boast the world's biggest species of stingray and the largest southern hemisphere penguin colony.
Book your Kelly Tarlton's Sea Life Aquarium tickets
5. Head to the Top of Sky Tower
As soon as you reach Auckland, the first thing your child will see is Sky Tower. Heading to the top of this tower provides a stunning sky-view panorama of the Auckland area. You can even see volcanoes and other landmarks off in the distance.
Is your family more the adventurous type? Sky Tower has a SkyWalk where you can test your footing and fear of heights around the tower. Many daredevils enjoy the rush of SkyJump, where you can leap right off the edge of the tower.
There are also 3 restaurants and cafes to choose from.
6. Winter Retreat at Snowplanet
Are you visiting the Auckland area and in need of some winter activities? If so, you're in for a cool treat! Snowplanet is located about 20 minutes north of Auckland City and has several snow recreational activities for everyone in your clan.
Not only do they have skiing and snowboarding, but also tubing and other games. You can also learn to ski with their skilled instructors, that will have you skiing like a pro in no time.
There's even a restaurant where you can refuel for more excitement.
7. Find a Pot of Gold at Rainbow's End
Auckland's largest theme park, Rainbow's End, has over 20 ride attractions and 5 high-thrill rides you won't want to miss. How about twisting and turning on the Corkscrew Coaster, or dare to ride the Stratosfear, the park's scariest thrill ride?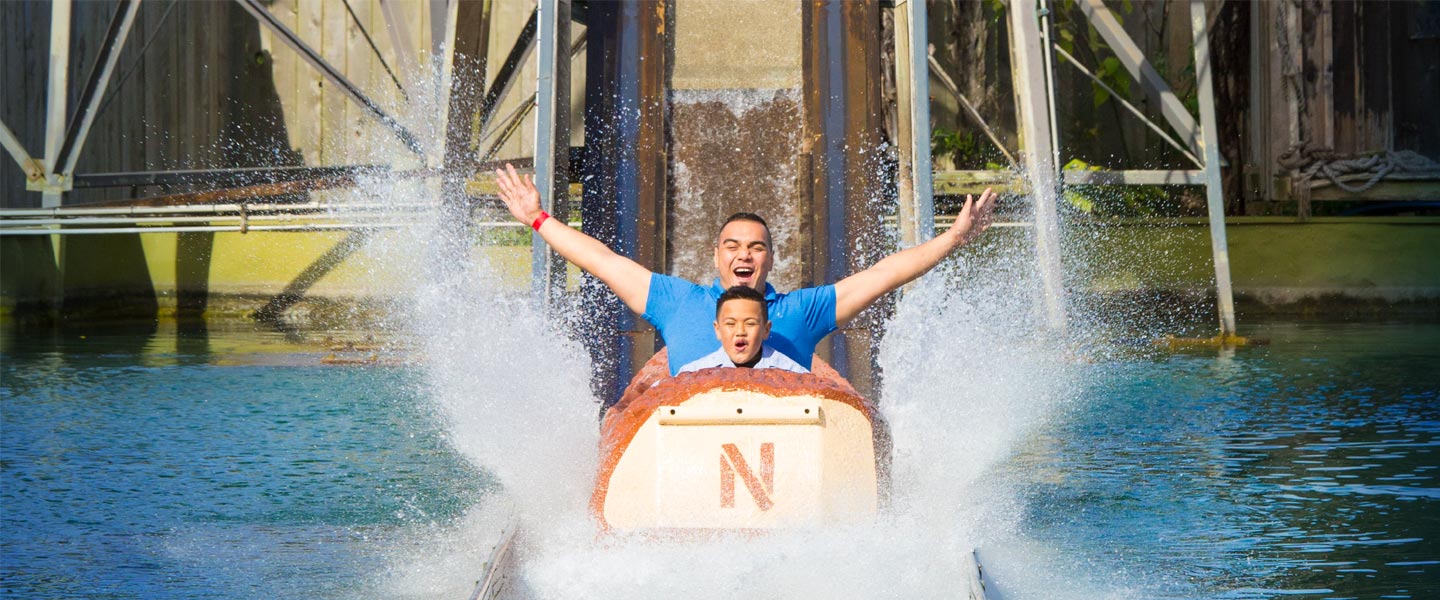 Is it a hot day during your visit? Rainbow's End has several water rides that can cool you off in an exciting fashion. If you have children below the age of 8, Kidz Kingdom is a portion of the theme park built for smaller kiddos' enjoyment.
8. Go Virtual Reality at VR Voom
Auckland's largest virtual reality theme park, VR Voom, is right up your video gaming alley. They have a motorbike racing, shooting games, and survival games. There's even a section suitable for children that are under 6 years of age.
This theme park provides different packages and experiences depending on your preferences and the amount you're willing to spend.
9. Hit the High Ropes at Rocket Ropes
The Rocket Ropes in Auckland allows children 6 and older, and even adults to set out on several high ropes courses.
Your children will scale tunnels and even a pirate ship. They even have a portion of the park called the Rocketeer course, that's geared for children 2-6 years of age. Make sure you set your booking ahead of time.
10. Kiwi Valley Farm Park
Kiwi Valley Farm Park provides your family with a laid-back farming atmosphere and has a bunch of fun activities and animals to see on their farm.
Be sure to hop on a tractor ride or pony ride, and also help hand-feed the farm animals. They even have llamas and ostriches you can visit.
Get lost in their giant maze and then head over to their playground, so the kids can wear off some extra energy. It's also the perfect venue if your child happens to be celebrating a birthday while you are visiting.
These are a handful of neat places and things to do in Auckland while you're visiting with your family.
Which of these do you think your family will enjoy most? If you've visited Auckland with kids your in the past, what neat places did you hit up?