Searching for just the right gift for someone who loves to travel? Find it in those travel gifts for her. Scroll to see all the items!
These travel gifts for her contain affiliate links which means if you purchase something from one of my affiliate links, I may earn a small commission that goes back into maintaining this blog.
Finding the perfect gift for someone who loves travel can be tricky! There are so many amazing items to choose from.
Whether the wanderluster in your life is a full-time traveler, or they just dream about travel 24/7, you'll find the right travel gifts for her in this guide.
Check it out!
23 Incredible Travel Gifts for Her
When wanderlusters aren't traveling, they are dreaming about their next trip!
NatGeo takes you on a photographic tour of the world's most spectacular destinations, inspiring tangible ideas for your next trip.
Travel to hundreds of the most breathtaking locales—both natural and man-made—illustrated with vivid images taken by the organization's world-class photographers.
This small working compass has a beautiful vintage style. It makes a thoughtful and unique gift for an avid outdoors person or traveler.
A compass symbolizes good luck and staying the course over rough waters. What an inspirational travel gift idea for her!
This rugged-edge font is a unique and fun way to display someone's love for travel. These wall words look great paired with a world map, magnet board or picture collage.
It's also a great idea for a travel blogger's home office!
I'm a big fan of travel pillows for long flights and this one is too cute! Plus, it's memory foam for extra comfort.
This set also comes with ear plugs, an eye mask and a carrying case.
One of the most stressful things to happen while traveling is when your phone dies. I'm serious. We rely on our phones for GPS, boarding passes, and all kinds of reservations.
Plus, many of us like to take photos and video on our phones to capture some of the travel memories we make.
Portable chargers are essential for charging cell phones, cameras, and all kinds of electronic gadgets and devices.
We have one of these and the kids have the best time scratching off the countries we've been to. It's also a fun thing to look at to plan your next trip!
This hand-made ornament will be a beautiful addition to your holiday decorations, or perfect for a one-of-a-kind gift!
With its globe-like abstract decoration, it's great for far-away family members, travel enthusiasts, and anyone with a bit of wanderlust!
Plus. it's so chic and pretty!
I love the bright colors in this adorable watch!
It encourages wanderlusters to never stop traveling and it will help you not lose track of time while exploring the world.
Charm bracelets are truly classic! What I love about this one is that it's a bangle style, but it's completely expandable to fit a variety of wrists.
It adds just the right touch of travel to any outfit!
This adorable bag tag is perfect for identifying any bag that travels with you. It is made out of durable plastic and comes with a sturdy metal screw clasp to ensure it stays where it is supposed to be.
Add it to a carry on or checked bag. And for parents, add one to your stroller or car seat bag!
This shirt makes me think of a glossy travel magazine and I love that! It's perfect for a jetsetter or mountain climber.
Plus, it's a high quality print will not crack or fade which ensures your garment stays looking fantastic. Major win!
I always bring a travel wallet with me on trips. It's the best way to store all my travel essentials in one place, especially if I'm heading to multiple countries with different currencies.
This one is super organized and perfect for stashing your passport, boarding pass, credit cards, ID card, tickets, money, coins, smartphone, sim card, pen, etc.
Ok, I might be a little obsessed with this bracelet right now! What a fun way to commemorate an epic trip!
It's completely customizable, so you give them your cities and they create the bracelet.
When you really have no idea what to give a wanderluster, more travel is always the right call!
Since AirBnB operates all over the world, it's one of the easies travel gifts for her! Plus, it's a fun gift to go in on with others for a really epic present!
In our digital world, it's nice to go "old school" with a tangible travel planner.
This one is pretty cool because you can track up to four weeks of travel with 28 daily spreads to log activities, meals, memories, spending and more!
Plus, there are places to add photos, stickers, doodles, etc. It's perfect for teens and college students heading on their first overseas adventure!
I love starting my morning off with a cup of coffee or black tea. This mug is adorable and might make Mondays a little more bearable!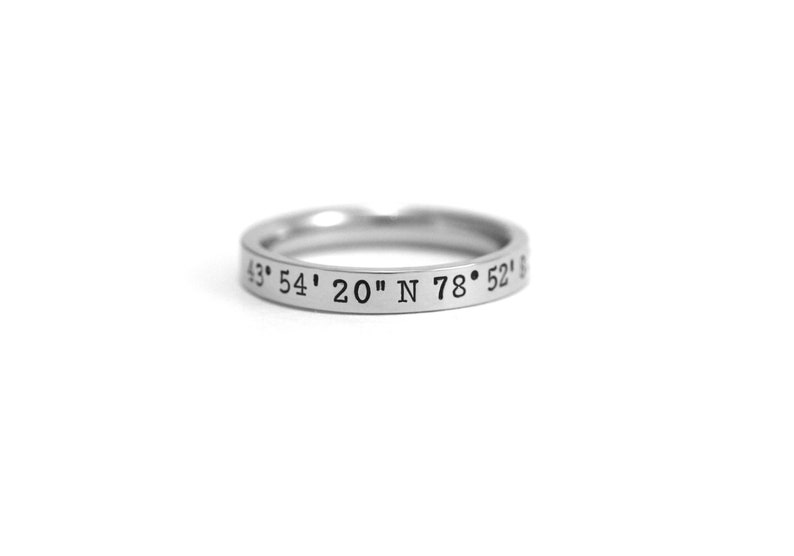 I'm all about the custom gifts. Each coordinates ring is made-to-order (not pre-made), and will be personalized with your location coordinates!
What a fun way to commemorate a wedding, birth, engagement, or simply remind yourself of your favorite place in the world!
This collapsible grip provides a secure hold for easier texting, calling, photos, and selfies. All are important things for travelers!

This print is so fun and colorful!
If you know an extroverted traveler, be sure to grab this awesomely creative travel guide! It's a deck of cards that have whimsical prompts like "ask the next person you meet where his/her favorite street is."
And the best part is you can do this anywhere, from world traveling to exploring your own city.
This guide encourages travelers to see things differently while discovering both new and familiar places.
If the working compass necklace wasn't your jam, you might like this classic one.
This necklace comes beautifully gift wrapped and ready to give! It's the perfect present for a high school or college grad and makes a nice retirement gift.
Another fun way to mark adventures is with this awesome cork globe!
The globe consists of clearly drawn maps of each and every country which makes it easier for you to pinpoint your travels!
Along with this cork globe map, there are 50 different colored pins which can be used to mark the beautiful places you have traveled to.
This adorable passport cover comes in a variety of colors and has built in RFID blocking, to help prevent personal account information disclosure.
There's slots for your passport, business cards, credit cards, boarding passes, etc.
One of the hardest things to pack are cords, plugs, and other tech gadgets. You really have to pack them separately so you don't lose track of them.
Keep everything organized while in this animal friendly (vegan) leather case, personalized with your initial.
Any travel gifts for her that stand out to you? Let me know in a comment below!
Loving these travel gifts for her? Click here now for more awesome gift ideas!