This shop has been compensated by Collective Bias, Inc. and its advertiser. All opinions are mine alone. #ThinkOutsideTheWipe #CollectiveBias
Day of the Dead or Dia de los Muertos
Growing up, Halloween was hands-down my favorite holiday. I loved dressing up and seeing everyone else's costumes. And eating a ton of candy, of course!
I assumed this was how everyone celebrated Halloween across the world.
However, in middle school, one of my friend mentioned how she was celebrating Dia de los Muertos and I stopped in my tracks. What was this holiday? How had I never heard of it?
Dia de los Muertos (also known as the Day of the Dead) is a Mexican holiday where families remember friends and family members who have died and help them on their spiritual journey.
It takes place October 31-November 2 each year.
People visit cemeteries, build altars and leave items for the deceased. The goal is to encourage the spirits to visit and hear the thoughts and prayers directed to them. I think of it as a celebration of life.
What is a Sugar Skull?
One of the most recognizable components to Dia de los Muertos are the sugar skulls (also called calaveritas de azúcar.)
It originates with the Spanish conquest. The Spaniards introduced the people of Mexico to the idea of creating decorations out of local ingredients.
Mexico was full of sugar at the time and it was easily accessible to people of all incomes.
Traditionally, sugar skulls are molded from sugar and water and decorated with a deceased love one's name.
Today, there are different sizes of skulls, numerous accessories, coffins, and other shapes. And sugar skull-inspired decorations are featured alongside Halloween decor.
I personally appreciate the joyful and celebratory aspects of sugar skull decor compared to the spooky and gruesome Halloween decorations.
Would you like to learn how to make a craft inspired by sugar skulls? Read on!
Sugar Skull-Inspired DIY Footprint Painting
SUPPLIES
Black Construction Paper
Foam brush
Fine-tip paint brush
Paper Plate
Non-toxic white paint
Acrylic paint in multiple colors (or paint pens)
Plastic table cloth
Huggies® Natural Care® Wipes
Step 1: Gather your supplies
The first thing I like to do is take an inventory of what we already have and what we still need.
Since this is a baby-oriented activity, I'm a bit pickier about the products I use. I like to be extra careful about the paint I use on my baby.
I headed to Samsclub.com to order a box of Huggies Natural Care Wipes. This craft tends to get a bit messy, so Huggies wipes are very necessary!
My family loves the Sam's Club website because it's easy to use. Plus, I can order online and pick up in-club using the Sam's Club Pick-Up Service.
This time, I chose to order online and get free shipping right to my house.
Interested in using Huggies® Natural Care® Wipes in your next art project? Hover over the photo to click through to Samsclub.com and buy them!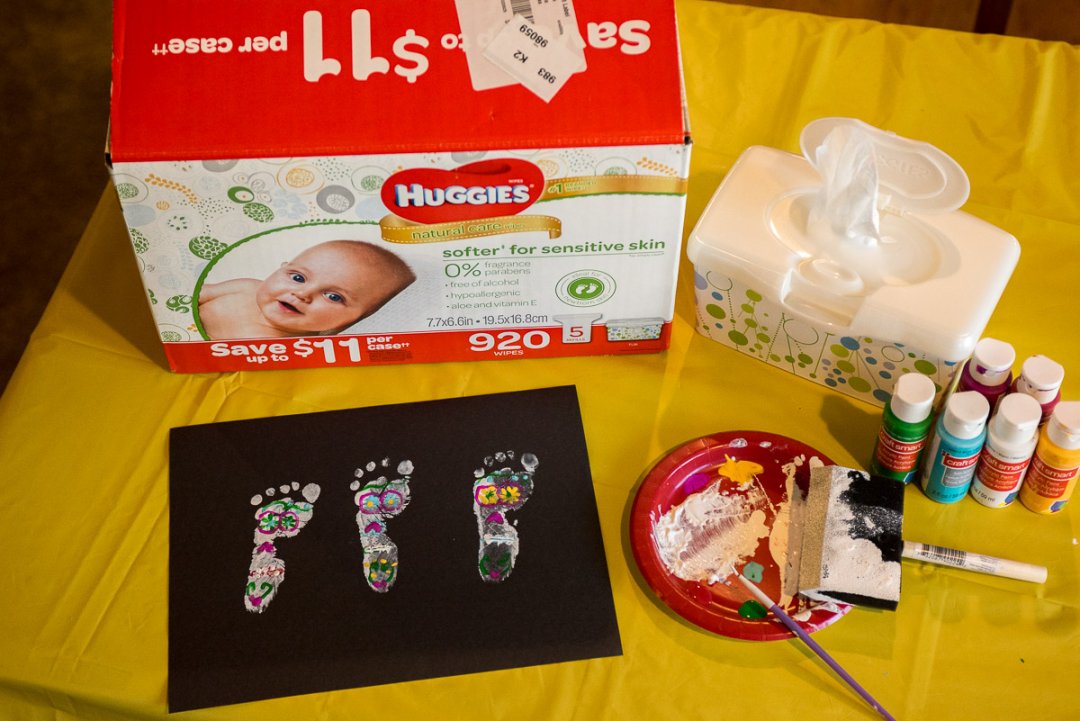 To enable screen reader support, press ⌘+Option+Z To learn about keyboard shortcuts, press ⌘slash
Step 2: Cover a table
This can be a messy activity. Usually, I like to do painting outside for easy clean-up.
However, it's October in Seattle and the rain and chill has set in. So, I re-used a plastic tablecloth from my youngest son's birthday party as our craft surface.
You could also use a cardboard box or newspapers.
Step 3: Paint your baby's feet
My preschooler loves to do footprint activities, but his feet are growing like crazy! So, instead I had him help me paint his brother's feet. Using the foam brush, paint your baby's foot completely.
Make sure to get all the nooks and crannies and each toe.
Step 4: Stamp your baby's feet
I like to place my construction paper on a hard surface and bring the paper to my son's foot. I'm able to move the paper to stamp exactly where I want it.
But, as babies get older, it's often easier to have them stand directly on the paper on the floor.
Stamp as many times as you'd like. Re-apply paint as necessary.
Step 5: Wipe baby's feet!
This step may be the most crucial! Using your Huggies Natural Care Wipes, clean your child's feet thoroughly.
Make sure to get all those nooks and crannies again!
I like to purchase Huggies Natural Care Wipes because they are free of alcohol, parabens and MIT.
Plus, they are hypoallergenic and free of harsh chemicals. And perfect for cleaning up messes like kid crafts involving paint!
Step 6: Paint your design
Squirt different colored paint onto a paper plate to create a palette. You could also use paint pens. Then, start creating your sugar skull designs.
I'm not super creative, so I browsed pictures online to use as inspiration.
For me, crafts are about making memories with my kids. My preschooler and I worked on this one together while talking about the Day of the Dead.
Happy Dia de los Muertos!
[mailerlite_form form_id=3]