Are you planning a trip to New Zealand with kids? If Queenstown is on your New Zealand itinerary, you won't want to miss out on these top things to do in Queenstown with kids!
This post about the top things to do in Queenstown with kids contains affiliate links which means if you purchase something from one of my affiliate links, I may earn a small commission that goes back into maintaining this blog.
Guest post by Delilah Hart of Our Travel Mix
Queenstown is a top holiday destination in New Zealand and a great place to take the kids. Being the adventure capital of the world, there are plenty of exciting activities, like the Luge, kayaking, and ziplining, as well as nature treks and great food. Queenstown is definitely a place to keep children occupied.
This article will cover the top things to do in Queenstown with kids.
Top Activities to Do when Visiting Queenstown with Kids:
Play Disc Golf at the Queenstown Gardens
The Queenstown Gardens are stunning. Set at the edge of Lake Wakatipu, the mountains backdrop the scene and the garden itself is covered in beautiful greenery.
Spend some time strolling through the gardens and marveling at the surrounding nature. Kids feed the fish with fish food purchased for a small donation within the grounds.
One enjoyable activity you can participate in at the Queenstown Gardens is disc golf. This is where you use a frisbee to aim for targets which look similar to a netball hoop with a basket made from chains. The chains allow for a way for the frisbee to land inside the basket.
Adults will enjoy the game too – it really is more difficult than it looks.
Taking the Gondola to the top of Bob's Peak will give you a great view of the town, without having to hike far for it. This is a great option for families with younger children, as well as those with health conditions and injuries.
Skyline offers a family pass perfect for a family of four or five. A gondola ride only will cost $126 NZD for a family of four, or $149 NZD for a family of five. Passes are also available that combine a luge ride (or up to five) down the mountain.
There's also the option to take a walk up to Bob's Peak. This will take around one hour and is quite steep, so this may only be suitable for older children.
At the summit, there are both a restaurant and cafe to dine at if you've built up an appetite. Find a seat with great views down the mountain.
Eat Fergburger at Queensland's Waterfront
Fergburger has taken New Zealand by storm. It is possibly one of the most well-known eateries in the country, and definitely amongst the best restaurants in Queenstown. It is definitely the best burger I've ever had!
To put things into perspective, Fergburger is so popular that the lines to order burgers run down to the street.
Queueing may take around 30 minutes to one hour during the busier times of the day, but to beat the queue, the best hack is to call up and order over the phone. Just swing by the window to pick up your order.
My pick is the Ferg Deluxe, but they also have a great breakfast burger, chicken burgers, and vegan options. Bear in mind the size of these burgers. Two kids could easily share one burger.
Pair the burger with a mint chocolate or cookies and cream thick shake.
Once you've ridden the Gondola up Bob's Peak, the best way to get to the bottom of the mountain is by luge. A luge is a sled with handlebars. They're simple and easy for kids to use.
Just push the handlebars forward to accelerate, then pull the handlebars back to brake. You can also ride in tandem with younger children if necessary.
There are two tracks available at the Queenstown track. The Blue Track is the more basic track. This track is mandatory for first-time luge riders. For those over 135 centimetres, their second luge can be done on the more advanced Red Track.
The family passes for a Gondola ride up the mountain, and luge rides down the mountain start at $187 NZD.
Jetboat across the Water
Jetboating is an iconic tourist activity in Queenstown. Speeding around the waves in a jet-powered boat is a super exciting way to spend your holiday. The kids will enjoy the fast-paced, fun-filled activity.
There are two main areas in Queenstown where you can jetboat; the Shotover and Kawarau Rivers. The former seems to be the most popular, but both rivers offer amazing views and scenery.
Wanaka, the neighbouring town, just one hour away from Queenstown, is another place known for its great adventure activities. Jetboating is another one of the most popular activities in Wanaka for children.
Ok, I'll admit it. I have a huge sweet tooth! The Remarkables Sweet Shop in the main town is an iconic shop that all the locals know about.
It's the best place in Queenstown to buy confectionery with everything you could ever imagine, from hard-boiled sweets to gummy lollies, chocolates and fudge.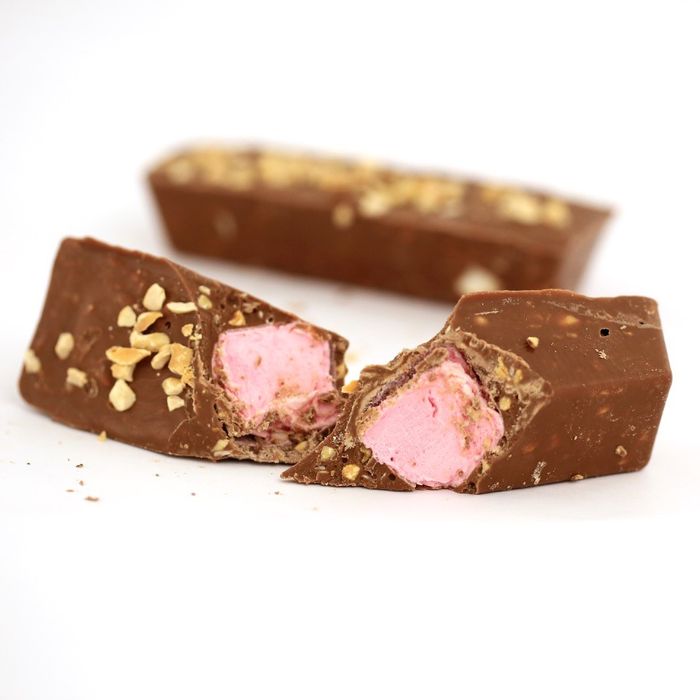 The fudge is definitely the icing on the cake at this sweet shop. Head on in to give a few flavours a try which will be a huge hit with the kids, before you choose a slice to take home with you.
The fudge also makes great gifts for friends and family back home. Try the creme brulee and lemon meringue flavours!
They also have a second store located in Arrowtown, just 20 minutes away from Queenstown. This town is one of the quaintest I've visited and makes for a perfect half-day trip from Queenstown.
It is definitely a place that should be added to your bucket list when visiting New Zealand.
Happy Hour at Cookie Time in Queenstown
Forget happy hour for alcoholic drinks, Cookie Time has an even better idea! From 6 pm to 7 pm every day, Cookie Time Cookie Bar located right in the middle of the town has a happy hour. It'll cost you just $4 NZD for two hot cookies, which is half price.
These warm cookies are so tasty that I will get them almost every day I'm in Queenstown. There is no limit to how many you can buy, so it's a real test to see how much you can restrain yourself.
My ultimate favourite flavours are their original chocolate chip and salted caramel.
A trip to New Zealand just isn't complete without paying a visit to either Milford or Doubtful Sounds. Milford Sound still remains one of my favourite places to visit in the country.
Milford Sound features snow-capped mountains, rainforests, glaciers and waterfalls. The fiord is located in the heart of Fiordland National Park.
Mitre Peak is the star of the show. The mountain is commonly photographed and popular with avid climbers. Children will enjoy playing "I spy" for dolphins, fur seals, and penguins.
This natural attraction is situated a few hours from Queenstown. Most tourists choose to take a day tour out to Milford Sound for the convenience, as the drive is quite long and the roads windy. Most tours include a cruise at Milford Sound as well as a provided lunch.
Onsen Hot Pools have overtaken Instagram in New Zealand. This award-winning place is picture-perfect. Their private cedar hot tubs overlook the Shotover River Canyon in Queenstown.
The Onsen Hot Pools are perfect for a romantic date as well as a fun family activity.
Their pools are equipped to hold up to four people. Children are allowed in the onsens during the daytime. Entry will cost $32.50 NZD for children, and $87.50 NZD for one adult, or $126 NZD for two.
Hang out at Queenstown Beach with your Kids
Right by the waterfront, Queenstown town has its own little beach. This is a great spot to bring the kids and there are plenty of things to do there to keep them occupied for hours on end.
Relax on the beach with your kids as they take a dip in the ocean and make sandcastles.
The bank is a perfect spot for kids to kick a ball around and play tag, and there are a couple of great playgrounds nearby.
For the older children, kayaks and paddleboards are available for rent. The great thing about renting a double kayak is that you can also enjoy the activity with them.
Take a Picnic to Lake Wakatipu whilst Visiting Queenstown with Kids
There's something about a picnic that makes it fun for all ages.
Head to the Four Square Alpine to stock up on groceries. When we go out on a picnic, we'll usually grab bread rolls and filling, including ham, salami, smoked salmon and pesto or a dip for flavour.
For snacks, we'll grab some nice cheeses and crackers, as well as grapes and a bar of chocolate.
For the mums and dads, you may want to enjoy a bottle of wine from a winery you visited in Queenstown. Your hotel may have provided some wine glasses in your hotel room.
Walk down to Lake Wakatipu, just a few minutes from the main town centre. Late afternoon is a great time for a picnic so you can watch the sunset.
The Kawarau Zipride is the perfect activity for fearless kids who love a bit of adventure. This attraction is set above the Kawarau River.
The Zipride can be done in tandem so you can ride with your children too! You'll ride through at speeds of up to 60 kilometres an hour! Children should be at least eight years old to ride the Zipride.
As well as the Zipride, you can watch the Bungy Jumpers at the Kawarau River.
About Delilah
Delilah Hart is a Kiwi with a passion for travel. When she isn't taking photos of landscapes, she is writing in her travel blog that aims to help people travel the world better.