Looking for a fun St. Patrick's Day activity for kids? Learn how to make a leprechaun trap with these top leprechaun trap ideas for kids! Scroll to see them all!
This post about leprechaun trap ideas was written by family travel expert Marcie Cheung and contains affiliate links which means if you purchase something from one of my affiliate links, I may earn a small commission that goes back into maintaining this blog.
My kindergartener just brought home an optional homework assignment. When I saw it was to build a leprechaun trap, I immediately started gathering supplies!
There are lots of different ways to make a leprechaun trap, and we've got the best ideas right here. You can make any of these traps with supplies you probably have around the house.
With just a few simple items, you can have your kids help you build one of these traps and catch those pesky leprechauns.
Of course, you don't want to actually catch any leprechauns – that would be mean! But it's still tons of fun to try. And who knows, maybe you'll get lucky and actually snag one.
Get started on your trap today and have some St. Patrick's Day fun!
10 Leprechaun Facts for Kids
1. Leprechauns are from Ireland
These tiny creatures are actually part of the fairy family and they hail from Ireland. Some people think leprechauns come from the Irish deity Lugh, who is a god of arts and crafts.
But, you don't have to go to Ireland to spot a leprechaun. People say leprechauns can be found wherever Irish people live.
2. They live in the woods
In Ireland, people have spotted leprechauns near fairy mounts in the forest. Fairy mounds are little hills covered in grass. Your best bet is to look in woods that feel "magical."
3. There aren't any female leprechauns
No matter how hard you look, you won't ever find a leprechaun who isn't male.
4. They are crazy fast
If you want to find a leprechaun, you'll need to be quiet and keep your eyes wide open. Leprechauns are super fast and move at lightning speed.
5. Some leprechauns are cobblers
Yes, leprechauns do have to work to make a living. Many of them spend their time making shoes.
That's why you'll sometimes see them holding a hammer.
6. Other leprechauns are bankers
Some leprechauns are in charge of all the fairy money. That's why you see them running around chasing gold.
7. Each leprechaun has a pot of gold
Legend says that every leprechaun has his own pot of gold. He must guard it very carefully because he loves gold more than anything else in the world.
8. Leprechauns are notoriously untrustworthy
Out of all the fairies, leprechauns are by far the sneakiest. They have lots of ways to trick people out of finding out where they have hidden their pots of gold.
9. They like to hide in trees
When you are in the woods, look carefully at the trees. This is where leprechauns like to hide. They sometimes go behind trees or up in their branches. Since they wear green, they are easily camouflaged with the trees.
10. They can grant wishes
If someone catches a leprechaun, there are two things that can happen. He has to give you either his pot of gold (usually hidden at the end of a rainbow) or grant you three wishes.
What is a Leprechaun Trap?
A leprechaun trap can consist of a shoebox or other box that is decorated in a way to make a leprechaun think there is gold.
Make sure to include either real or chocolate coin money to entice the leprechauns to come to your trap. They love gold coins and will travel far and wide to collect them.
Where to Place Your Leprechaun Trap
Since leprechauns like the woods, that's a great place to set up your trap. You can put it up in the trees or near the tree trunk.
And if you live in a rainy climate (like we do in the PNW), make sure your trap is under enough branches to keep it nice and dry.
Insider tip: You may need to leave it overnight unattended for your best chance to catch a leprechaun. They hate being around people.
What do you put in a Leprechaun Trap?
Leprechaun traps are a fun and creative activity for kids to celebrate St. Patrick's Day. Leprechauns are known to be attracted to shiny objects, so gold coins are a classic choice to lure them in.
Since leprechauns are associated with rainbows, you could add a colorful rainbow decoration to your trap. Leprechauns are said to love all things green, so try adding some green candy or treats to your trap.
Anything with a symbol of luck, such as four-leaf clovers or horseshoes, could be a good addition to your trap.
Leprechauns are also said to love collecting small objects, so you could add some fun trinkets or toys to your trap for them to discover.
Remember, the most important part of a leprechaun trap is the creativity and fun that goes into making it!
What do You Leave After a Leprechaun Trap?
After setting a leprechaun trap, it's common for children to leave a small treat or gift for the leprechaun as a way of tempting it into the trap. You can use plastic gold coins or even chocolate coins to represent the leprechaun's treasure.
Since leprechauns are known for their shoemaking skills, leaving a tiny pair of shoes or a hat near the trap can be a fun touch.
How to Make a Leprechaun Trap
Ok, now it's time to get to the nitty-gritty.
If you are looking for something fun to do with your kids that is hands-on, you can't go wrong with these homemade Leprechaun traps!
They are a fun way to get your kids excited about St. Patrick's Day, and they're more fun than your usual Shamrock craft!
These are great STEM activities for kids, and they won't even know they're learning!
I suggest making signs that say "free gold", using green construction paper, pipe cleaners, gold paint, and maybe even building a secret trap door!
Here are 15 simple Leprechaun traps for kids to make for St. Patrick's Day!
This is a super cute, tiny leprechaun garden made to encourage sneaky little leprechauns to come to visit by climbing up the little ladder and checking out the pot of gold.
I love this easy leprechaun trap for toddlers and preschoolers. It's super simple to set up and doesn't require many craft supplies.
This Lucky Charms leprechaun trap for kids is a fun, hands-on project that is perfect to do on a deck outside. It's a fairly simple leprechaun trap but you'll be sure to catch a sneaky little leprechaun!
This post has some fun unique leprechaun trap ideas that will spark creativity in your kids to create something special of their own.
If your kids are LEGO lovers, you will have all the items you need to create your own LEGO leprechaun trap. It's a little harder to create trap doors, but it can be done with the right bricks!
This St. Patrick's Day leprechaun trap uses leprechaun gold coins from a party store for some extra razzle-dazzle. It's sure to catch a leprechaun!
This post has lots of creative ideas for how to trap a leprechaun using a DIY leprechaun trap. You're sure to catch sneaky leprechauns or maybe even a crafty little gnome!
This leprechaun trap project uses materials you probably already have on hand, like a cereal box and green paper. Plus there's a trapping mechanism!
This is a really creative leprechaun catcher that uses a full Lucky Charms cereal box (including the cereal)!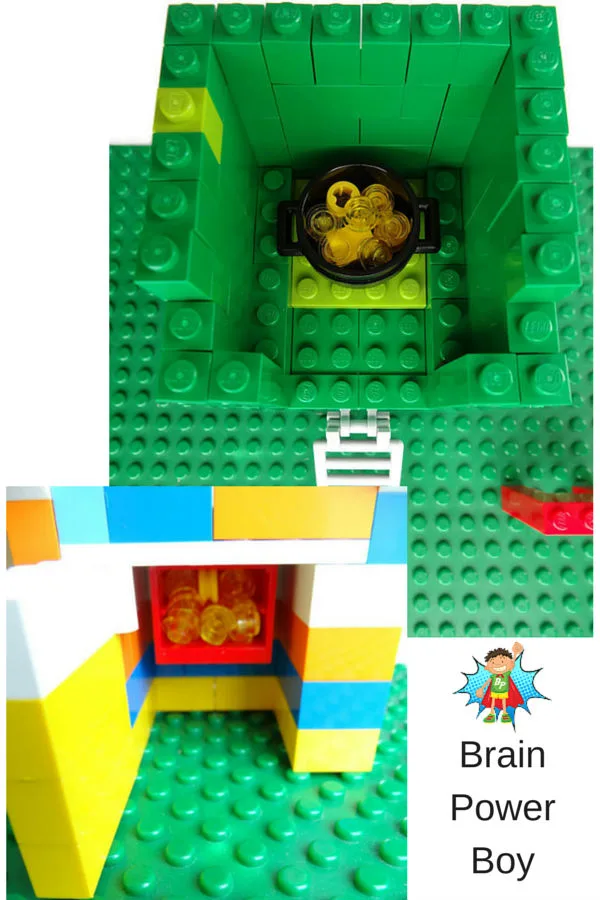 This is another post with awesome LEGO leprechaun traps to inspire your kids.
Ok, how adorable is this homemade leprechaun trap? It has so many cute details!
This post has tips for making a leprechaun trap using materials you can find around your house.
This DIY leprechaun trap tutorial uses unfinished treasure boxes from a craft store. It's super easy for kids to decorate.
Learn how to make a leprechaun trap that is super adorable and full of magical details.
These are awesome leprechaun trap ideas for first graders.
Leprechaun Traps for Kids FAQs
What do leprechauns look like?
Leprechauns look like tiny, pale, red-headed men with beards. They usually have a grouchy disposition. Whenever they appear in stories, they are usually wearing a cocked hat (a black or green hat with a buckle), a green coat with gold buttons, green pants, and shiny black shoes (sometimes with a buckle.)
How tall is a leprechaun?
The word "leprechaun" actually means "small body." Many times people talk about leprechauns being the size of fairies. But, some people say leprechauns can be up to 2 feet tall.
Why do leprechauns have pots of gold?
It is said that leprechauns earn a gold coin on their birthday each year. Because they live to be very, very, old, they store all their gold in big pots that they keep hidden.
Why do leprechauns hide their gold at the end of a rainbow?
It's actually pretty clever. Leprechauns hide their pot of gold there because it's nearly impossible for humans to find out exactly where this is. This sneaky trick makes sure no one will ever steal their treasure.
What do kids find in a leprechaun trap?
It's important to note that catching leprechauns is just a fun tradition and leprechauns are not real creatures. So, what kids actually find in a leprechaun trap is likely to be whatever they put in there themselves, such as toys or treats. The real treasure, of course, is the excitement and joy of participating in the holiday tradition with friends and family.
What Happens if You Don't Catch a Leprechaun?
Leprechauns are super sneaky characters and it's pretty rare to actually catch one. But these easy leprechaun trap ideas should help!
Usually, kids find a leprechaun letter thanking them for the gold coins, treats, or whatever the kids left the leprechaun.
Sometimes the leprechaun will even leave a treat, like rainbow-colored Skittles!
I hope you have fun making your own leprechaun trap! They are so much fun and can take as few craft supplies as you like!