Are you looking for the best chapter books for 1st graders That they'll actually enjoy reading? Keep scrolling for my mega list of 1st grade chapter books, PLUS my free printable book list!
This post about the best chapter books for 1st graders was written by family travel expert Marcie Cheung and may contain affiliate links. This means if you click on the link and purchase the item, I'll receive an affiliate commission at no extra cost to you. All opinions remain my own.
I remember how victorious I felt when my 6-year-old gained confidence in his ability to read. The game changer? Finding books he was actually interested in!
In the process, I've created a mega list of the best chapter books for 1st graders to try out. And I've even created a printable first grade book list so young readers can cross off the books they have read.
Keep reading to get this treasure trove. And cheers to confident readers!
How To We Got Our Young Reader Interested in Reading
My first grader LOVES to read. I know that sounds like I'm bragging, but I'm really proud that he has discovered the wondrous world of reading.
However, he didn't used to enjoy reading.
When he learned to read last year, he'd get frustrated trying to read things that weren't at his level. He thought he should be able to read anything he wanted.
When he couldn't, he didn't want to read at all.
Last spring, he started using Lexia for distance learning and he began to gain more confidence in how to sound out words and recognize sight words.
We did a reading assessment this summer to figure out what level books to get him and that helped us a lot.
And we made sure to find engaging books to read aloud to our son at bedtime. We read a bunch of Roald Dahl books and a few classics, as well as My Father's Dragon.
That helped him figure out which type of books he liked, and which ones he found boring.
The most important thing we did to encourage our 6-year-old to read was finding the right books that piqued his interest.
So, we just made sure he had a LOT of options to choose from. Then we got him the first book in a series.
If he liked it, we'd get the rest of the series. If he didn't like it, we moved on. This method worked really well for us because he was reading books he liked.
Below, you can find my list of the many amazing chapter books for first grade readers we've read. And don't forget to grab my free printable first grade book list at the end!
Best Chapter Books for 1st Graders for Beginning Readers
The Adventures of Sophie Mouse is a cute series about a little mouse who lives in Silverlake Forest with her friends.
The first book takes place at the start of the school year when a new kid joins the class. His name is Owen and he's a snake!
Sophie and her classmates are afraid of him and refuse to sit with him or play with him at recess. Throughout this book, Sophie gains the courage to connect with him and prove to everyone that Owen isn't so scary after all.
These easy chapter books for 1st graders have lots of pictures and simple sentences, making them great for beginners.
BUY ON AMAZON
Wallace and Grace are owl detectives that use their friendships and teamwork to solve problems.
This is a super cute mystery series for kids with simple whodunit mysteries for Wallace and Grace to solve.
The first case is about a rabbit who is sure he saw a ghost in the garden. Wallace and Grace try to solve the case, but the clues lead them in different directions.
These simple beginner chapter books are great for kids who need shorter sentences, larger font, lots of pictures, repetition, and explanation of trickier vocabulary.
If your kids love animals, they might get a kick out of this new Branches series. It's all about a pug name Baron von Bubbles, AKA "Bub," and his human, Bella.
These stories are told from the dog's point of view. They're diary-style and super funny.
The text is easy to read, the plot moves quickly, and there are tons of pictures. That's a winning combination for keeping kids who are just learning how to read engaged in the story!
The first book of the series is about how Bub helps Bella create the best project to enter in the Inventor Challenge.
But when Nutz the squirrel (Bub's nemesis) makes him ruin Bella's project, Bub learns how to face his fears and make it up to Bella.
If you have a reluctant reader who might like a book filled with slapstick humor and silly drawings, then the Fly Guy series might be a winner!
It's all about a boy named Buzz and a fly named Fly Guy who embark on an unusual (and funny) friendship.
In this first book of the series, Buzz enters Fly Guy into an Amazing Pet Competition where the little fly does some crazy tricks to wow the judges.
Each chapter is short (about 15-25 words) and there are 3-5 chapters in each story. And the author uses simple words and repetition.
That's why it's great for early readers or kids with shorter attention spans.
Comic books are a great way to capture the attention of kids who might feel overwhelmed with traditional books.
The Kung Pow Chicken series is sort of a mix between a comic book and a traditional early chapter book. And it's part of the popular Scholastic's book line called Branches.
The text is easy to read, the plot moves quickly, and there are TONS of colorful pictures. Plus, it's about a superhero chicken!
Average chicken Gordon Blue transforms into Kung Pow Chicken, an awesome chicken superhero who fights crime in the city of Fowladelphia.
In this first book, Gordon tries to solve the mystery of why all the chickens have lost their feathers and he hops into his Beakmobile to save the day!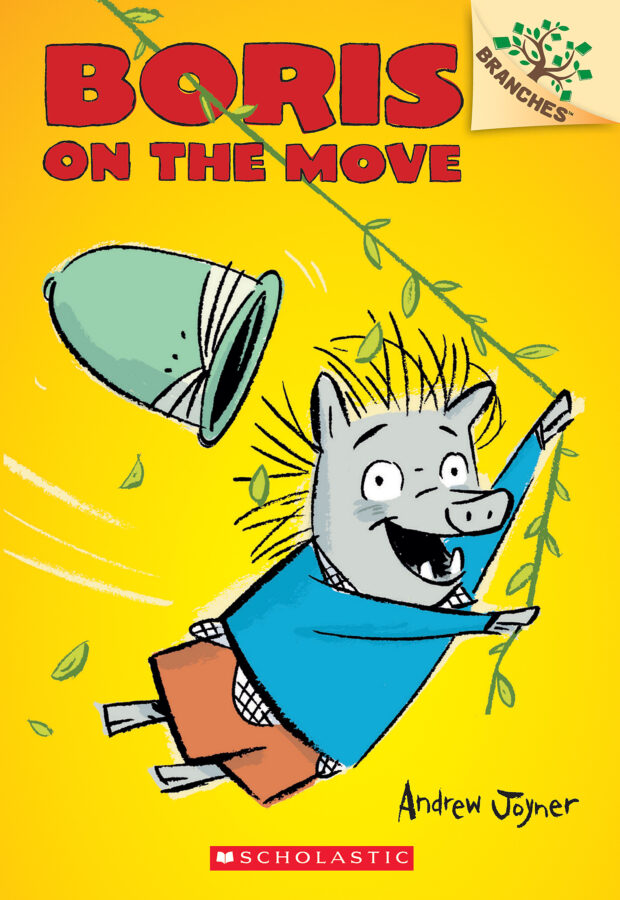 Boris is another Branches book from Scholastic. So, you can expect it to be perfect for kids just learning how to read on their own.
Boris is an adventurous warthog who lives with his parents in Hogg Bay.
Instead of living in a house or a pig sty, they live in a van that used to travel all over the world. And when Boris realizes the van is moving, he's curious about what will happen next.
Of course, he doesn't end up where he expected and there are some surprising twists and turns to keep him on his toes.
This is another great line of books for early readers.
The stories are really lighthearted and features 2 awesome characters: Unicorn and Yeti.
While they have several differences (Unicorn can do magic, while Yeti cannot), they both love sparkly things, magic rainbows, and being the best of friends.
If your kids would rather be playing video games than reading, the PRESS START! series is a fun early chapter book that combines video games with reading.
Super Rabbit Boy is not only super-fast and super brave, but he's also the star of a video game. And he lives in this video game world (Animal Town) with his friends.
The first book is all about what happens when the boy playing the video game (Sunny) loses each level. Will Super Rabbit Boy disappear with all his friends?
If your kids are familiar with the Cool School YouTube channel, they will be begging to read this!
This book series focuses on Drew Pendous, a kid superhero who goes on daring adventures with his friends.
In the first book, it's Camp Cool School vs. Camp Cruel School in a big color war. It's all fun and games until Grace Cale decides to try to suck all the colors out of the world.
Drew must use teamwork, and his amazing drawing skills, to figure out a way to stop her evil plan.
It's a graphic novel based on the hit YouTube series, so it's a great way to get kids excited about reading. Plus, the pages are in full color, and they are bright and cheery.
Best Chapter Books for 1st Graders Who Are Strong Readers
My son is half-Chinese and I'm always looking for books that feature an Asian-American protagonist. I totally hit the jackpot when I discovered the Alvin Ho series.
These books are pretty funny, too! They revolve around a 2nd grade boy named Alvin Ho who is "allergic" to everything that scares him.
What's especially unique is that these books take place in Massachusetts, and they feature a lot of information about the Revolutionary War.
My son read these books aloud to me the first time and I'm glad because he didn't know anything about the Revolutionary War. It was a great opportunity to sound out the big words and explain some American history.
The Ruby Lu series is the same author as the Alvin Ho books, but these feature a girl named Ruby Lu and it's set in Seattle, where the author grew up.
Ruby is a confident, adventurous girl who loves starring in her own backyard magic show, speaking at school assemblies, and visiting her grandparents (GungGung and PohPoh.)
She's less enthused about doing Chinese school on Saturdays and having her baby brother spill the beans about her best magician secrets.
It's a cute series about what it's like to be an Asian-American girl in the Pacific Northwest.
Note: in this first book of the series, there is a scene where Ruby gives step-by-step instructions on how kids can drive a car. My son knew it was just a story, but wanted to warn in case your kids take things literally.
A.J. is a kid who goes to Ella Mentary School that is fully of zany teachers and an even crazier principal.
Each book in the series focuses on a different teacher and has a hilarious plot.
In the first book, A.J. discovers that his new second grade teacher (Miss Daisy) doesn't know how to add or subtract. Of course, that leads to hilarious situations.
Oh, and the principal promises to turn the school into a video-game arcade if the kids read a million pages in books.
This is an awesome book series that my son has devoured. We bought this boxed set and it was definitely worth it.
There's also subsequent series called My Weirder School and My Weirdest School. And a fun game called Miss Bernard is a Wild Card that helps kids form funny sentences.
I must have been living under a rock because I hadn't heard of the Flat Stanley series until I grabbed a copy at Goodwill earlier this year.
And I certainly didn't realize it was more than 50 years old!
The premise of this book series is that a boy gets crushed by a bulletin board, and it causes him to be flattened.
He uses that to his advantage and goes on adventures across the world, through the mail, being flown as a kite, or getting rolled up.
There are also lots of cool Flat Stanley activities, printables and other resources online.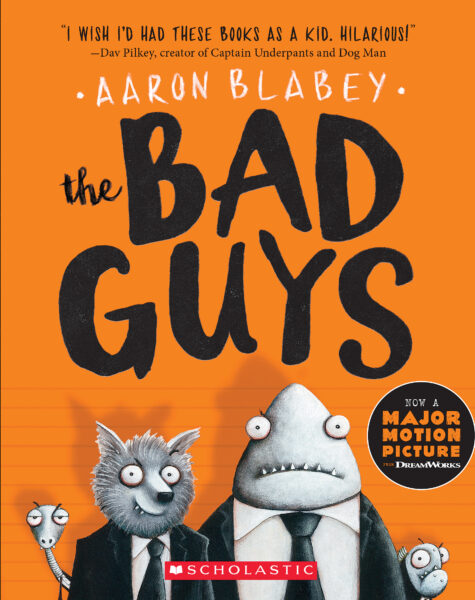 This is probably my son's favorite book series right now. He thinks it's HYSTERICAL and it's the first series where he begs us to get the next book as soon as he finishes reading one.
My son probably summed it up best when he told me that even you're supposed to think they are the bad guys, they are actually the GOOD guys!
In the first book, Mr. Wolf, Mr. Piranha, Mr. Snake, and Mr. Shark are on a mission to break 200 dogs out of the Maximum Security City Dog Pound.
It says it's geared for grades 2-5, but my first grader had no problem. It's kind of a mix between graphic novels and beginner chapter books.
And after your young reader is finished with this series, you can introduce them to the movie that came out in 2022!
My son and I read this one together and he thought it was just okay. He's not that into dinosaurs, so that might have played a part.
But, I know this book series is super popular with a lot of kids we know so I had to include it on this list.
The premise is interesting. Basically, a brother (Jack) and his sister (Annie) find a mysterious tree house. They realize it has magic powers that can transport them through time!
In this book, it takes them to prehistoric days where they see real dinosaurs and have to figure out a way to get back home.
They have a bunch of different themes throughout the series, so you might try the one about knights, mummies, or pirates.
Sometimes first impressions are wrong. That's true for Ivy and Bean who initially thought they would never be best friends.
Thankfully for us, they get into a pickle where they need each other and develop a really special friendship full of empathy and understanding as they navigate life.
This is the introductory book in an extensive (and addictive) series that will keep your keeps engaged in each story.
And it's great for reluctant readers who want to live vicariously through girls who make creative choices to get their way.
Now, as it can be the case with many kids' books, this series does have some name-calling. They also imply that sisters are always mean to one another, and the characters are pretty mischievous.
But, in the end, there are always consequences for their escapades and it's a great opportunity to talk to your kids about other choices the characters could have made.
This book series focuses on an 8-year-old boy named Archie Morningstar.
In this funny first story of the series, Archie learns that his father is not just a taxi driver, but a space-taxi driver.
And because it's Take Your Kid to Work Day, he gets to ride along for the adventure of a lifetime!
As you might imagine, the plot is pretty hilarious with lots of slapstick humor and crazy characters.
What's extra cool is that there are science facts at the end of the book that are related to the concepts in the story.
These books are geared for kids in grades 1-5. So you might want to either read them with your kids or be available to help them understand the story.
The Questioneers is a series of STEAM chapter books using the same characters from their popular picture books.
There's Engineer Rosie Revere, architect Iggy Peck, and scientist Ada Twist. But this time, they're a team.
The first book in the Questioneers Series is Rosie Revere and the Raucous Riveters and it's geared for kids in grades 1-4.
Rosie is an engineer and she's been tasked to help her Aunt Rose and her friends (the Raucous Riveters) invent something new.
After a series of failures, Rosie's confidence is shaken. But her Questioneer teammates (Iggy Peck and Ada Twist) help Rosie accomplish her job and learn the true meaning of home.
What's extra cool is there's a companion book called Rosie Revere's Big Project Book for Bold Engineers that goes well with this book. There's also the picture book Rosie Revere, Engineer.
If your kids are intrigued by science fiction, they probably will like the Alien Next Door series.
The first book centers on an alien boy from Tragas named Zeke who is the new kid at a school on Earth. He's a little annoyed about having to move to a new planet because of his parents' job.
At first, none of his classmates catch on that he's an alien (even though he eats weird food and doesn't type with his hands.)
Well, no one except Harris, who is obsessed with science fiction and determined to out Zeke as an alien.
This book series is geared for kids in kindergarten through 3rd grade and has lots of illustrations on every page, making it great for early readers.
If you're looking for the best chapter books for 1st graders that girls everywhere can relate to, this one is a popular choice.
In the first book, Daisy gets grounded, and the reason why is kind of a mystery that is revealed at the end.
Throughout the book, there are funny stories about things like how her goldfish thinks it's a dolphin and how garden hoses sometimes have a mind of their own.
What's not to love about Katie Woo?
She's a stylish and spunky girl who makes tons of mistakes that she has to learn from. A lot of these happen at school and are totally relatable.
I bought my son the one where she has a loose tooth because that's his main focus these days. But that's not the first book in the series.
The first book is all about how Katie has to deal with a bully at school who calls her names. She has to figure out a way to get him to stop.
This chapter book series is geared for kids in grades 1-3 and has some cool illustrations throughout the book.
In this first book of the series, Bear wakes up from her annual hibernation and builds a snowman. Not to be outdone, her neighbor Rabbit decides to build an even better snowman.
This funny story highlights how characters who are very different can form an unlikely friendship. And it talks about why Rabbit eats his own poop.
There's really something for everyone in this laugh-out-loud tale!
Stella Batts is a girl who dreams of being a published author. And she's not waiting until she's a grown up to be one.
These books are basically journal entries describing her life and her perspective.
In the first book of the Stella Batts series, Stella tries to come up with a new name after a classmate gives her the nickname "Smella."
This is a cool book series for first graders to read on their own. The author does a great job of explaining the bigger words that younger kids might not understand.
This book series is a prequel to the bestselling Hank Zipzer series. However, in these books, Hank is a 2nd grader who is unintentionally funny and struggles a bit in school.
The first book is all about Hang wanting to play the lead part in the school play, but completely freezes at his audition.
So his teacher creates a "special" part for Hank where he doesn't have to talk: a silent bookmark.
Of course, there's a pivotal moment where Hank must save the play and show that no role is insignificant.
This chapter book series for 1st graders is written by actor Henry Winkler (most famous for playing Fonzie in Happy Days!).
I love diverse chapter books and this one seems really cool because it weaves in the Latinx experience as well as the perks of being bilingual.
This series is based on the life of the author, Sarai Gonzalez. She became a Latina icon after appearing in Bomba Estero's music video "Soy Yo," which is all about embracing yourself.
In the first book of the series, Sarai is in 4th grade. And she can do just about everything, including running her own cupcake business.
She's full of energy, optimism, and an entrepreneurial spirit.
But, when a family crisis happens, Sarai struggles to figure out a creative way to save the day.
What's extra cool about this book series for kids is that there's also Spanish versions you can buy. It's geared for kids in grades 2-5, so you might want to read aloud to your child.
If your kids like hockey, this is a really cool hockey book series geared for kids in grades 1-3. There aren't as many pictures in this book series, so it might be good to read with your kids.
In the first book, the main character (Lucas Finnigan) dreams of playing in the NHL when he grows up. However, money is tight at home and he doesn't have gear that fits him.
Additionally, his local ice rink is in trouble and might not be open for Lucas and his friends to practice there.
That's why it's so cool when he discovers a magical way to connect with one of hockey's greatest players.
Clementine is an independent 3rd grader who is bright and creative. And sometimes that gets her into trouble.
In the first book of the series, Clementine is having the worst week.
She's sent to the principal's office, her friend stops speaking to her, and even her mom gets mad at her. How can she fix it?
This series is a little similar to Junie B. Jones, but it's the next level in terms of difficulty.
It's actually recommended for grades 2-5, but I know a lot of first graders who are really into this series.
If your kids like Junie B. Jones, they will LOVE the Clementine series.
The Lola Levine series is another one that incorporates multicultural characters seamlessly into the story.
Lola is a 2nd grader who speaks Spanish at home with her mom but also celebrates her Jewish side from her dad. But most of all, she loves to play soccer with her friends.
In this first book, she accidentally injures a classmate during a recess soccer game, and everyone starts calling her "Mean Lola Levine."
She feels really bad about it. With the help from her family and her best friend, she uses her creative spirit to try to make everything right again.
The Mercy Watson series for first graders is a New York Times best-sellers and super popular with kids, parents and teachers.
Mercy is a super special pig who is spoiled by Mr. and Mrs. Watson (who even let her snuggle with them in their bed!)
In this first book, Mercy is involved in a bed-crashing incident and flees the scene.
Mr. and Mrs. Watson aren't sure if she's getting help or sneaking off to nibble the neighbors' sugar cookies!
It's a great book series for first graders because of the double spacing between lines, large font, short chapters, beautiful illustrations, and funny story.
This is a spinoff series of the Mercy Watson series. So, if your kids love the Mercy Watson stories, they will probably also love this series.
The first book in this chapter book series is all about a boy named Leroy Nicker who wants to be a cowboy but doesn't have a horse.
There are cute illustrations, lots of laughs, and interesting plot twists to keep kids engaged and wondering how the story will end.
Nate the Great is a kid detective. He loves solving mysteries by obtaining all the facts, asking the right questions, and narrowing the list of suspects.
This is a good mystery book series for kids who need a book with simple words and sentences, but has a more engaging story than some of the other beginning books.
Plus, they are super funny and your kids will laugh out loud as they read.
In the first book of the series, Nate must help his friend Annie find her missing picture.
The extra cool thing is there are fun activity suggestions at the end of the books.
This book series has come highly recommended by so many Mom friends lately.
Dory Fantasmagory is the youngest member of her family, which can be tough.
Her older brother and sister don't want to play with her, so she lets her imagination run wild for all kinds of crazy adventures at home.
These books are super funny and full of creativity.
I did notice that Dory's siblings use a lot of mean words toward her, and her parents aren't the best.
So might be a good one for kids to read out loud to their grown up so you can explain a bit.
This illustrated chapter book focuses on a boy named Zack who moves away from Earth to the planet Nebulon.
In the first book, Zack has his first day of school at Sprockets Academy. He's worried that his new classmates will be slimy aliens and that the school will be gross.
But he ends up meeting a cool friend who helps Zack get settled in his new home, which is so different than where he's from (Texas).
There are plenty of pictures and it's easy to read for 1st graders.
If your kids love the How to Train Your Dragon movies, they will totally be into this book series for 1st graders.
It's got everything fantasy-lovers are looking for: Dragons, royalty, wizards, and magic!
In the first book of the series, an 8-year-old boy named Drake is kidnapped by King Roland's soldier.
He joins some other kids in a Dragon Masters training program at the castle.
As part of their training, the kids must learn how to train their dragons and figure out what special powers their dragons might have.
We know quite a few friends who are really interested in this series!
The Heroes in Training book series is pretty cool. They focus on Greek mythology and kids get a first look at what these Greek gods and goddesses were like as kids.
The first book of the series focuses on one of the most famous Greek gods: Zeus.
Here, he's 10 years old and doesn't understand why he keeps getting struck by lightening. It all sort of clicks when he pulls a thunderbolt out of a stone with a mysterious message on it.
This is a fun way to introduce kids to Greek mythology in a way that is exciting and full of adventure.
Best Chapter Books to Read with 1st Graders
I'm not sure who's more in love with this trilogy: me or my son!
The story is absolutely mesmerizing and clever. I admit, I let my son stay up late so we could read extra chapters every night because I wanted to find out what happened next!
These are definitely our favorite first grade read aloud chapter books.
This classic book is a great one to read with your child because it's SO sad!
It's a great opportunity to talk about friendship and death with your child. That's why I think it's better to read it WITH your child, instead of them reading it on their own.
This was my 6-year-old's favorite book for all of last year. And we gave a lot of copies to friends for birthday presents.
It's a hilarious book that helps show kids that life will throw all kinds of stuff at you and how you handle it will show your true character.
This book is especially relevant since 2020 and I found it a joy to read each and every time.
Out of all the Roald Dahl books my son and I read together, this is by far his favorite one. It was the least scary and it was sweet and funny.
After we read the book together, we watched the movie and talked about how they were similar and how they were different.
My husband is the one who read this to our son. He even found this cool illustrated version.
It's been a pretty awesome way for our 6-year-old to see what's happening and what the characters look like as they read the book.
The first one is definitely the least scary of all the books!
Plus, it's long enough that you can read part of a chapter every night and the book will last a long time.
So, I'm including this on the list because my kindergarten teacher used to recite The Hobbit to his kindergarten class every year.
Of course, growing up, I thought he had made the story up! It wasn't until I was an adult that I pieced it all together…
It's the next big book we're going to read with our son after we finish up the ones we're currently reading.
Free Printable First Grade Book List
I'm always looking for new ways to incentivize my 6-year-old to read more books. One of the things that has worked well for us is having a checklist like this printable one!
It's a great visual and he can earn prizes after he reads a certain number of books.
The trick for us is asking him what he'd like for his reward. Usually, he wants extra minutes of screen time, a new Switch game, or something related to Pokemon.
You can create your own reward schedule by thinking about what your child is interested in.
They can get a prize for every book they read, every set of 5 books, or one big prize after reading all the books on this first grade book list.
And prizes can be as simple as choosing what's for dinner or getting to be "the boss" for an hour!