Do you know a massive Schitt's Creek fan? You're going to want to keep scrolling for this list of the coolest Schitt's Creek gifts you can buy on Etsy.
This post about the best Schitt's Creek gifts was originally published October 7, 2020 and was updated November 14, 2022 may contain affiliate links, which means if you click on the link and purchase the item, I will receive an affiliate commission at no extra cost to you. All opinions remain my own.
Not to brag or anything, but I've been a Schitt's Creek fan since before it was trendy.
I remember watching the first season when I was at home nursing my oldest and thinking that it was a fairly ridiculous show that didn't take too much concentration to still be entertaining.
I'd catch each season as it showed up on Netflix and thoroughly enjoy it. But, I didn't know anyone else who was watching it.
Last year, more and more of my friends started watching it and it was so fun to chat about the show together.
People started talking about it enough that my husband wanted to give it a shot to see what all the hype was about.
Normally, I don't re-watch shows. I love binge-watching new content. So, I made a really big exception and told my husband I'd totally watch the entire series with him in preparation for the final season.
I'm SO glad I did! I didn't realize just how many jokes and nuances I missed in the first few seasons when I was multitasking taking care of babies and toddlers while watching the show.
Very few shows make me laugh as hard as this one and it's definitely one of the most beautifully crafted shows I've ever seen.
It's rare to see a show where all the characters grow in such a positive way. And there are too many sweet moments to count.
And yes, I cried my way through Season Six and savored every scene.
In such a stressful year, Schitt's Creek came at the perfect time to show there is love and hope in the world. And that sometimes we all need to slow down and reconnect as a family.
And I know others feel the same.
That's why I pulled together this list of Schitt's Creek gifts that are perfect for birthdays and holidays. And every item is made by small business owners on Etsy.
So, show your love of an awesome show while helping support someone's side hustle!
Schitt's Creek FAQs
Is Schitt's Creek a real town?
Not exactly. Fans have been flocking to Goodwood, a tiny hamlet in Ontario Canada where they filmed Schitt's Creek. Here they can visit locations such as Bob's Garage and Rose Apothecary from the series Schitt's Creek.
What motel is Schitt's Creek filmed at?
The Rosebud Motel in Mono, Ontario, Canada is actually the Hockley Hotel, and it has been a major filming location for six seasons of this comedic television show. The motel recently went up for sale in 2021.
Why was Schitt's Creek canceled?
Actually, it wasn't. Creator Dan Levy made a careful decision to end the series at the end of season six and wrote the entire last 2 seasons with that in mind.
27 Super Fun Schitt's Creek Gifts
Ok, I may be secretly hoping someone sends this one to me. I mean, it's so adorable and I love that people have to watch the show to know what this is.
It comes in a bunch of cool colors that would look great on anyone. Plus, reviewers keep raving about how soft and cozy it is.
I think this Schitt's Creek clothing would be perfect to wear on a cross-country road trip!
Buy this Rose Apothecary sweatshirt on Etsy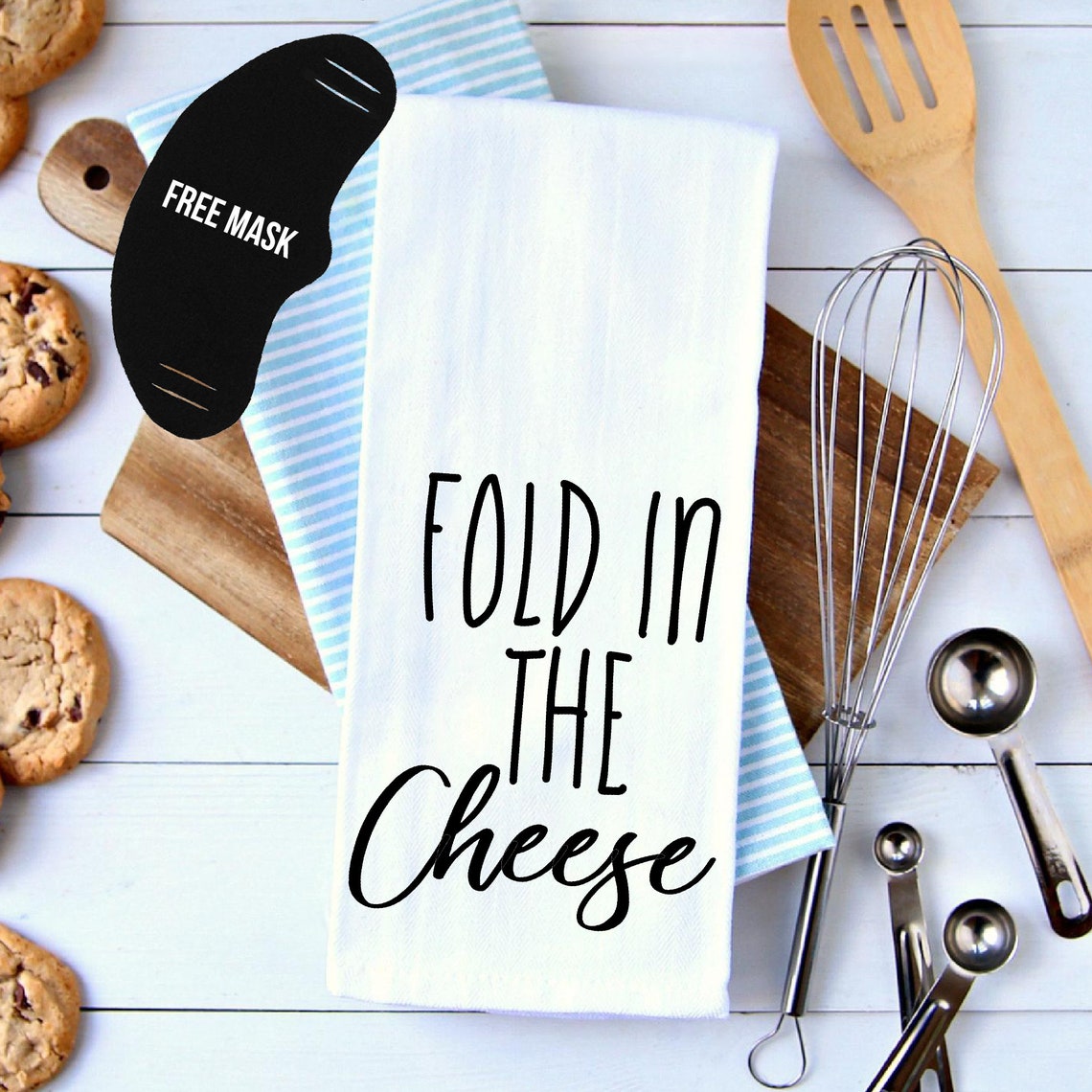 Ok, these might be the funniest housewarming gifts you could give someone this year!
This listing is for a 2 towel set that comes in hilarious quotes like "I Have Asked You Thrice Now For a Towel," "What Does Burning Smell Like?" and the classic "Fold in the Cheese"
Buy these Schitt's Creek kitchen towels on Etsy
I mean, this sweatshirt speaks for itself, right?
That scene totally cracked me up the first time I watched it. Okay, also the second and third time!
And it's making me giggle right now.
It also comes in black and white, so you know David Rose himself would approve.
Buy this Schitt's Creek sweatshirt on Etsy
When it comes to the best scenes in television history, does anything really compare to Patrick singing his acoustic version of "Simply the Best" to David?
These would be awesome wedding decor or wedding presents for someone. The sentiment is just so sweet.
Plus, these Schitt's Creek signs are digital downloads, so they are budget-friendly!
Buy these Schitt's Creek signs on Etsy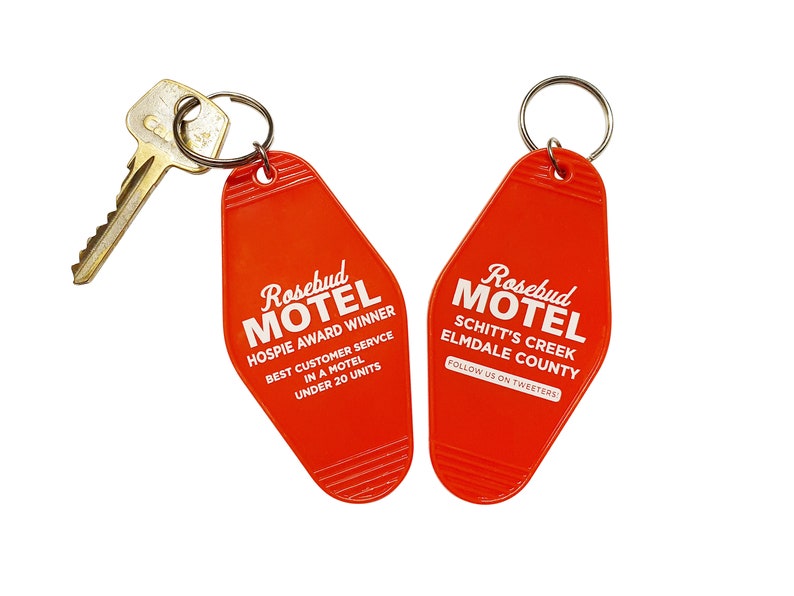 These Schitt's Creek keyrings would make awesome stocking stuffers for teens or adults. I love the retro vibe and how it mentions that they are a Hospie Award Winner, which is totally a big deal.
Plus, it says "Follow us on Tweeters!"
Buy this Rosebud Motel keyring on Etsy
When it comes to Schitt's Creek clothing, I'm not sure there's anything more iconic than David Rose's extensive designer sweater wardrobe.
While we all can't own a closet of expensive sweaters, this sweatshirt is a budget-friendly alternative. And it looks good on men or women.
Plus, it's just enough of a nod to Schitt's Creek for which true fans will have mad respect.
Buy this Lightning Bolt Schitt's Creek sweatshirt on Etsy
These stickers are cracking me up and I'm thinking of all the fun places you could stick them.
Of course, water bottles, notebooks, and computers are all great options. However, I bet there are a few unexpected places you could think of to put these to crack yourself up!
These Schitt's Creek stickers would also make great stocking stuffers!
Buy these Schitt's Creek stickers on Etsy
If you want to be "a little bit Alexis" this year, grab your own sideways initial necklace. It's a subtle nod to the show, plus they are really cute.
This one comes in silver, black, rose, or gold and is super affordable.
Buy this Schitt's Creek jewelry on Etsy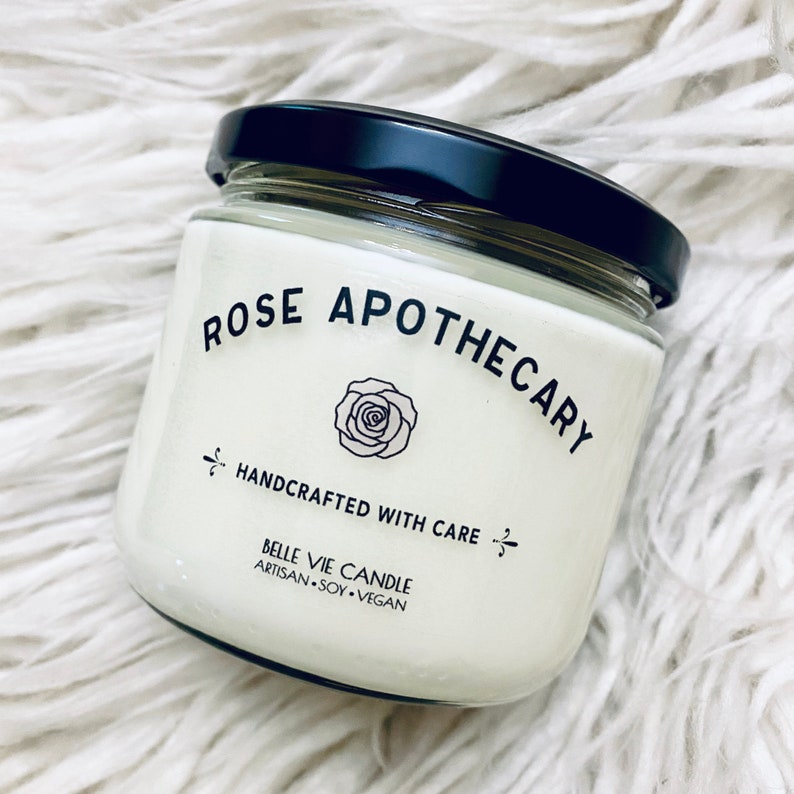 Ok, I don't even like candles, but every fiber in my being is telling me I NEED this candle in my life.
This is a fun option to treat yourself or buy as a gift (it comes in a gift box regardless.) You can choose your scent and it will be put in this adorable jar.
Can't you just picture this candle sitting in your bathroom or on a shelf?
Buy this Rose Apothecary candle on Etsy
Ok, you just sang that in your head, right?
Alexis' audition for Cabaret may be one of my all-time favorite scenes in Schitt's Creek!
This mug is sure to keep you giggling and remind you not to live life so seriously.
Buy this Schitt's Creek Mug on Etsy
I love how simple this Schitt's Creek t-shirt is, but it's also super cool and trendy. It would be easy to customize it a bit to make it your own.
Pair it with some frayed denim shorts and you've got a cute road trip outfit!
Buy this Schitt's Creek t-shirt on Etsy
These magnets would be great for your fridge, but they work on any metal surface.
I think these would be awesome to use in an office or on a magnetic whiteboard.
They are mostly decorative, so don't plan on them holding a lot up. But, they definitely have a wow factor that instantly adds some cool points to your space.
Buy these Schitt's Creek magnets on Etsy
Is it weird that I think Rose Apothecary might be my happy place, even though I've never actually been there?
For those of us who just have to dream about perusing the shelves of locally sourced home decor items, this art print might be as close as we get.
I love how simple and classy it looks, whether or not people understand the reference.
Buy this Rose Apothecary art print on Etsy
This is the quintessential Alexis quote because it embodies her very essence.
But, I'm adding it to my list because it's all about coming to terms with what life throws at us and being confident in the decisions we make to embrace it.
Plus, the little rose adds a little something special to it!
Buy this embroidered Schitt's Creek sweatshirt on Etsy
I think this Schitt's Creek mug resonates for so many people, especially first thing in the morning when the coffee hasn't quite kicked in.
And David's look just sums up the sentiment perfectly!
This would be great to use in the office, on campus, or at home when you are hiding from your kiddos.
Buy this Schitt's Creek Mug on Etsy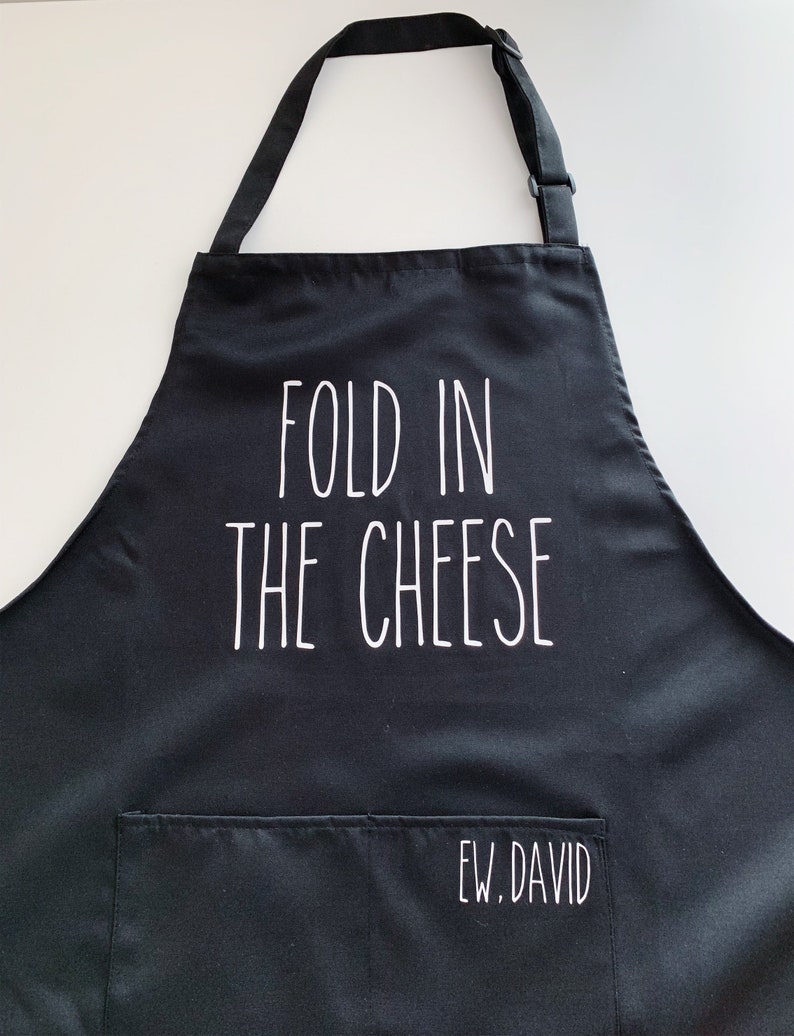 Yes, I know I already have a "Fold in the Cheese" item in this Schitt's Creek gift guide, but I felt the urge to also include this apron.
It's still cracking me up and it's just in time for holiday meal prep where people who don't normally cook or bake head into the kitchen to try their luck at following recipes.
Buy this Schitt's Creek apron on Etsy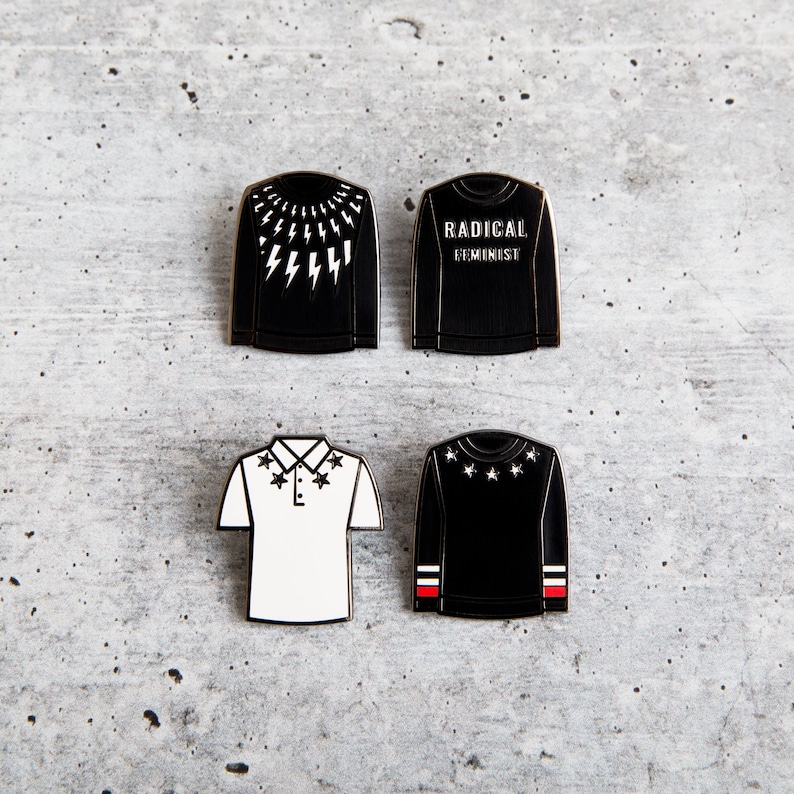 The idea of attaching a lapel pin of a sweater onto another piece of clothing totally cracks me up. I think that's why I like these so much!
You can buy these ones separately or as a set of 4.
Buy these Schitt's Creek Lapel Pins on Etsy
For the fashionista on the go, this Schitt's Creek accessories bag is perfect for travel!
Not only will it hold your makeup, skincare items, and other toiletries, but it will give you a smile every time you look at it.
Plus, you can say hi to Moira and "the girls" each morning!
Buy this Moira Rose Makeup Bag on Etsy
If you want a little extra this holiday season, grab a few of these Schitt's Creek magnets to add to your tree.
They also make great stocking stuffers or gifts for friends and family. Or, these would be super cute to use as part of your gift wrap on another Schitt's Creek-themed present.
Buy this Schitt's Creek ornament on Etsy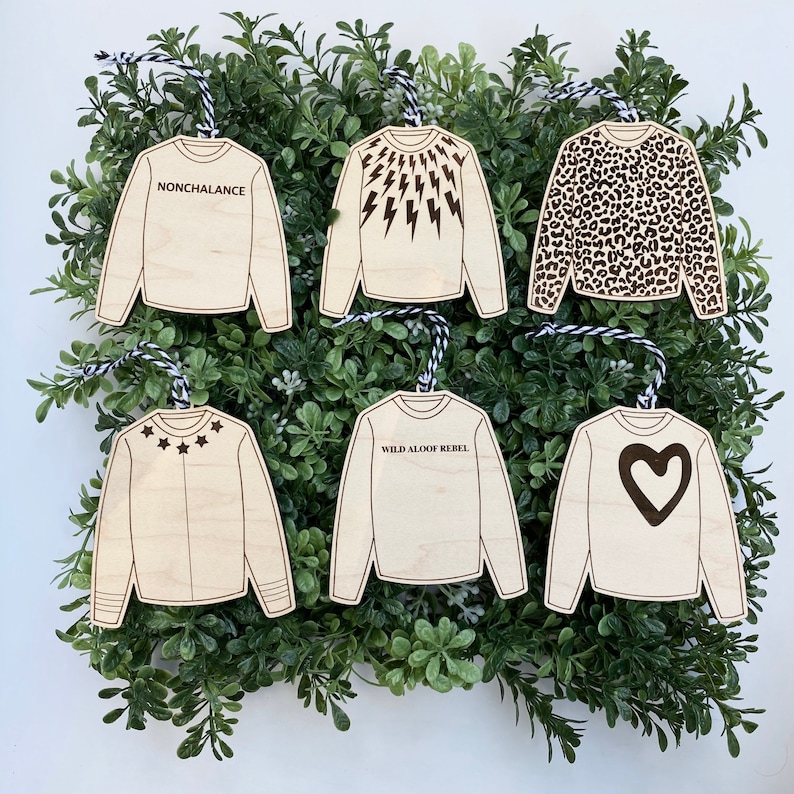 Going along with the Christmas theme, once I saw these David Rose sweater ornaments, I knew they need to be in this blog post.
And you really could have them up in your home all year long because they don't scream "Christmas" at you.
Buy these David Rose Sweater Ornaments on Etsy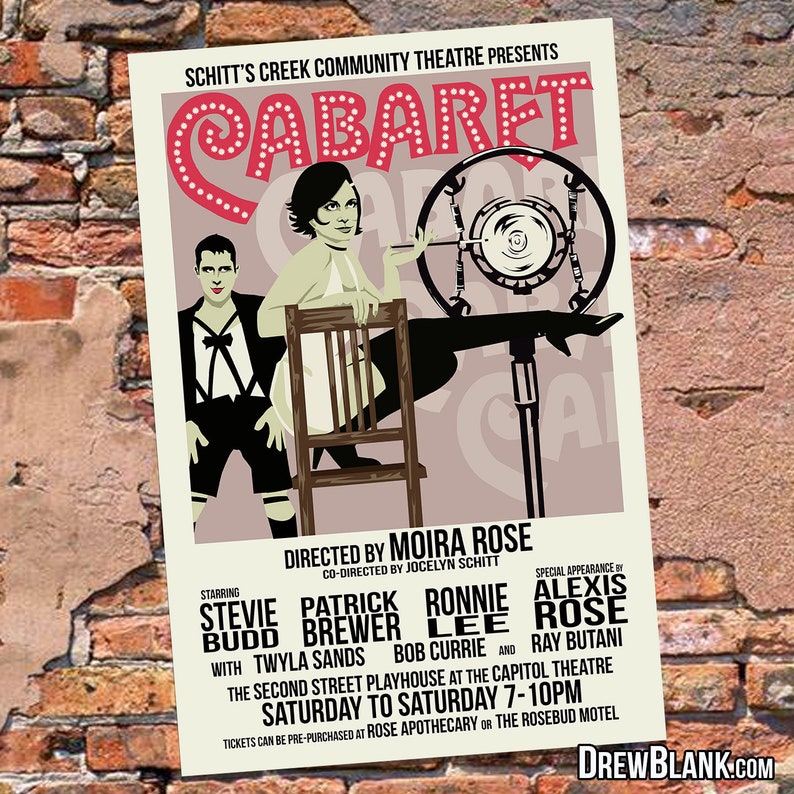 I'm not sure exactly why, but this Schitt's Creek Cabaret poster brings me so much joy! I think it's because of all the details, like "special appearance by Alexis Rose!"
It would look super cool on any wall!
Buy this Schitt's Creek Poster on Etsy
I know we all have a lot of reusable bags laying around, but none are as elegant as this one.
This makes a fun present all on its own, or you could fill it with a Schitt's Creek t-shirt, mug, a bottle of wine, or any other fun items to make it a super cool gift bag!
Buy this Rose Apothecary Tote Bag on Etsy
This may be the most popular phrase Schitt's Creek is known for. Yes, I've seen the YouTube videos of Alexis saying "ew, David" over and over, and yes, they are hilarious!
Wearing this sweatshirt around town will definitely get you a few compliments from fellow fans.
Buy this Schitt's Creek sweatshirt on Etsy
If you want to add a little bit of flair to a jacket or backpack, these Schitt's Creek mini buttons are pretty awesome to show your love of Schitt's Creek.
Hand them out to friends or keep them all for yourself!
Buy these Schitt's Creek buttons on Etsy
I don't think when this line was first uttered, anyone would have realized how relevant it would be to 2020!
This piece of Schitt's Creek home decor would be awesome for a college dorm room or first apartment. Or, actually, in almost anyone's home.
If nothing else, it's a great conversation piece!
Buy this Schitt's Creek sign on Etsy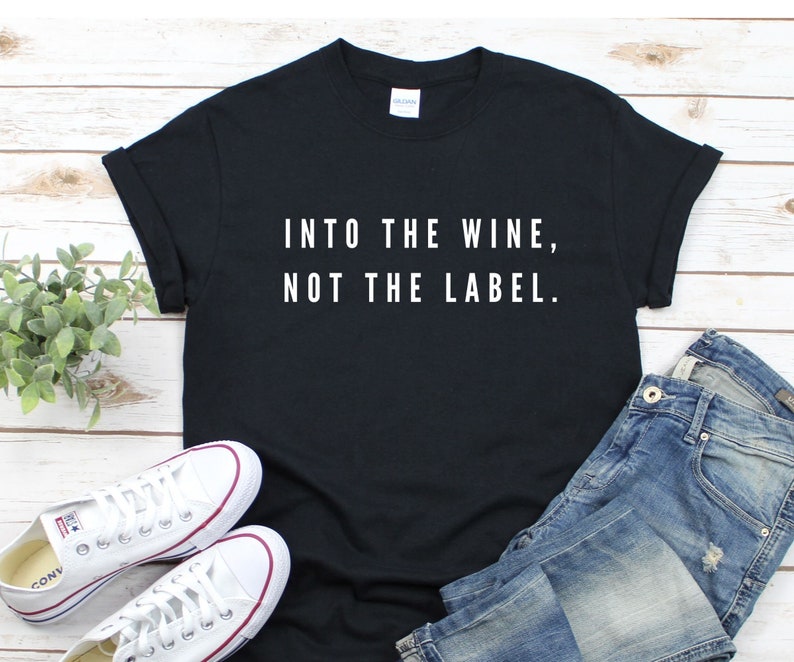 Another momentous scene in Schitt's Creek is when David explains his sexuality to Stevie by saying he's "into the wine, not the label."
So much is said in those little words.
Buy this Schitt's Creek t shirt on Etsy
If you're a fan of giving gift baskets or gift boxes, it doesn't get much cooler than this one. It's like a ready-made birthday present pack!
I also think this Schitt's Creek gift box is such a fun idea! It comes with Rose Apothecary skincare products.
A lot of these items would make fun prizes at Schitt's Creek-themed party, too!
Buy this Schitt's Creek gift box on Etsy
Wrap Up
If you're looking for something fun to get the Schitt's Creek fan in your life, be sure to check out some of these gift ideas.
We've got all sorts of cool shirts and products that will make them feel like an honorary citizen of Schitt's Creek.